The holiday season has arrived in full force and amid the ongoing global pandemic, Vancouver Islanders have been seemingly more eager than ever to piece together bigger and brighter Christmas displays this season.
As a way to share some of the picturesque displays from around Vancouver Island and spread the holiday cheer, we've reached out to our CHEK viewer community and rounded up a collection of holiday-themed photos!
Introducing the 2020 CHEK Light Up collection.
In a year where residents are limiting their non-essential travel and not visiting different locations to take in the dazzling lights, let us bring the illumination to you virtually.
CHEK will be looking to feature photographs of light displays on a routine basis on both our website and our broadcast. The photographs below have been submitted to CHEK News by viewers.
View previously featured displays:
November 24 // November 25 // November 26 // November 27 // November 28 // November 29 // November 30 // December 1 // December 2
E-mail [email protected] with your name and location for a chance to be featured in the future.
Denis & Nancy Holme – Nanoose Bay
Nanoose Bay is much closer than the North Pole if you wanted to track down Santa's latest satellite workshop.
Mary Hof – Cowichan Bay
I hear there is a movie coming about Santa on a tractor, but I have yet to see the trailer.
Thyra Nichols – Nanaimo
A display that is a sum of its parts! Safe to say this complex in Nanaimo has collectively gotten into the Christmas spirit.
Bailey Family – Royal Oak
In case you needed a reminder of the cheerful message this display is trying to send, just look up.
Dave & Wendy Starrie – Cassidy
Bright lights, dark forest, can't lose.
Keith & Sue – Qualicum Beach
Three deers in the 'woods.'
Vukovic Family – Saanich
We've been told that this display has utilized over 10,000 lights!
Alain Chatigny & Sherry Moller – Campbell River
In the words of holiday Yoda, pictured above: Christmas have a Merry, I hope you.
Jessica & Dave Robinson – Parksville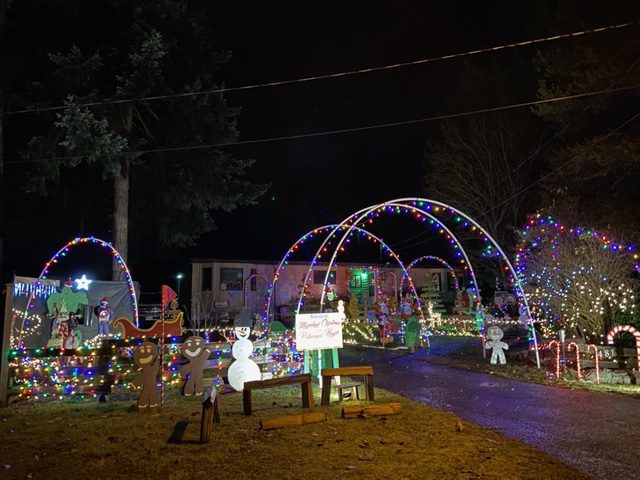 It truly is a Marvelous Christmas at the Robinsons House. This couple changes the decorations every year!
Don Mabon & Angela White – Saanich
Counting down the days!
22 days until Christmas.