The holiday season has arrived in full force and amid the ongoing global pandemic, Vancouver Islanders have been seemingly more eager than ever to piece together bigger and brighter Christmas displays this season.
As a way to share some of the picturesque displays from around Vancouver Island and spread the holiday cheer, we've reached out to our CHEK viewer community and rounded up a collection of holiday-themed photos!
Introducing the 2020 CHEK Light Up collection.
In a year where residents are limiting their non-essential travel and not visiting different locations to take in the dazzling lights, let us bring the illumination to you virtually.
CHEK will be looking to feature photographs of light displays on a routine basis on both our website and our broadcast. The photographs below have been submitted to CHEK News by viewers.
View previously featured displays:
November 24 // November 25 // November 26 // November 27 // November 28 // November 29 // November 30 // December 1
E-mail [email protected] with your name and location for a chance to be featured in the future.
Michelle Sauve – Port Alberni
This Christmas tree has officially immortalized the great toilet paper crisis of 2020.
Evan Norris – Central Saanich
The Rhythm of the Night: Just tune in to 89.1 FM to see these lights groove to the beat.
Dave Lane – Langford
A display so bright, you'll have to wear shades.
Brian Cathrine – Duncan
In a future year when things to normal, I can only hope to get an invite to this display party.
The Foxall Family – Langford
The real accomplishment was finding someone tall enough to put the star on top.
Steve Lynch – Salt Spring Island
Challenge: How many Santas can you find?
Julie Gray – Faster the Rat (Who belongs to her grandson, Leo)
This is 'rat'ical.
The Sauer Family – Victoria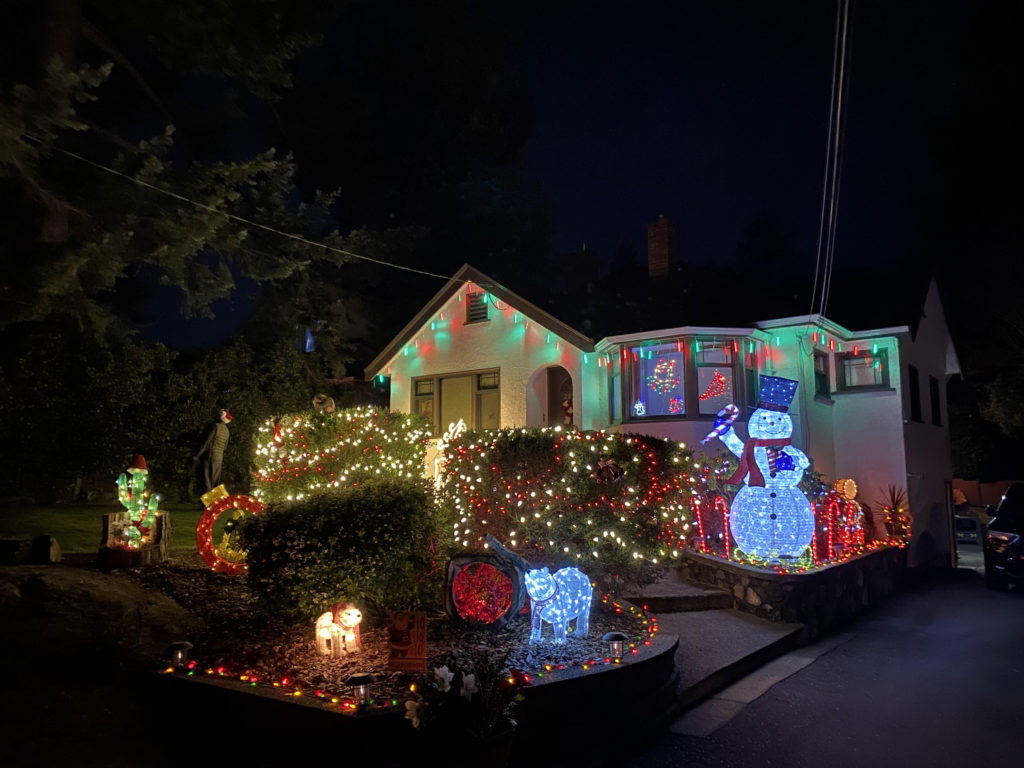 I spy a polar bear that appears to be a little 'light'er than normal.
Christina Wilkinson
Here we have been thinking all along that Santa rode around in a sleigh…boy, were we wrong.
Tari Shelton & Dave Cutler – Comox
If you are sleeping in an igloo, is it technically considered a really hard water bed?
23 days until Christmas!