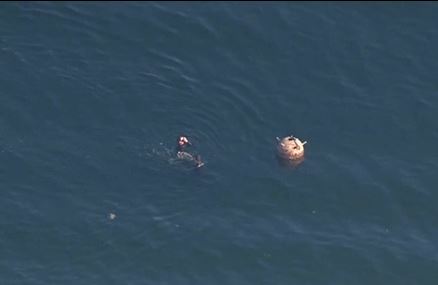 UPDATE: Local officials report the Commanders coordinating the response to the un-detonated mine have completed their mission and designated an All Clear.
Local media reports the ordnance was detonated in the water and that there were no explosives in the mine.
The U.S, Coast Guard Captain of the Port has established a temporary 1,500-yard safety zone around an unexploded ordnance drifting south and currently in the vicinity of the Brownsville Marina in Bremerton, Washington.
The public can expect the zone to last until the unexploded is rendered safe and removed from the area.
The ordnance was originally located by a Washington State Department of Natural Resources crew, who reported the incident.
A Coast Guard Station Seattle boat crew aboard a 45-foot Response Boat Medium is monitoring the 1,500-yard water safety zone, which has been established around the ordnance as it continues to drift south near Bremerton.
Other assets include:
Naval Base Bangor Explosives Ordnance Disposal Mobile Unit 11
Paulsbo Marine Unit
Bainbridge Marine Unit
Coast Guard Maritime Safety and Security Team 91101 Seattle
Coast Guard Cutter Swordfish en route to scene
A 5,000-foot temporary flight restriction zone has also been established in the area around the ordnance.
The safety zones were established to ensure the safety of people, vessels and aircraft transiting the area and to prevent underwater activities near the unexploded ordnance.
Source: U.S. Coast Guard