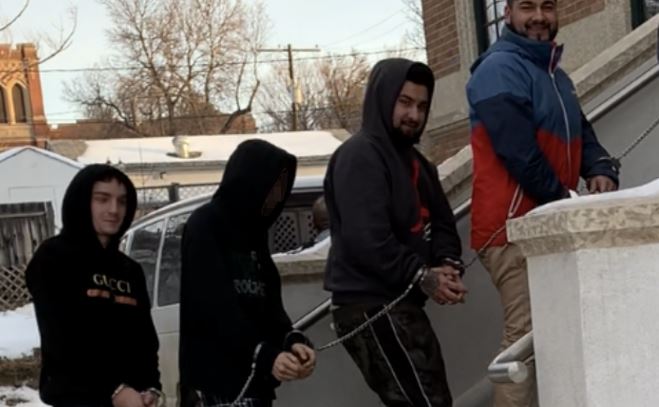 Victoria Police says it is inviting victims to come forward who may have been victims of four people with close ties to the Victoria area facing numerous human trafficking-related charges in Saskatchewan.
After a traffic stop on Jan. 28, RCMP arrested 19-year-olds Seyed Kourosh Miralinaghi and Seyed Kamran Miralinaghi, 23-year-old Shawn Alexander Kelly and 36-year-old Shermineh Sheri Ziaee.
VicPD said in a release Tuesday the four suspects have close ties to the capital region and believe there may be additional victims around Victoria.
Police say anyone who may have information about human trafficking involving the four individuals arrested in Saskatchewan are invited to come forward and speak to investigators.
Anyone with information is asked to call VicPD's non-emergency line at 250-995-7654, or Greater Victoria Crime Stoppers at 1-800-222-8477.
An off-duty RCMP officer saw three vehicles speeding east on Highway 1 toward Swift Current.
Police said the three vehicles appeared to be travelling together as they were driving in close proximity, were going in the same direction and travelling at the same speed.
Police said while speaking to the drivers and the passengers in the vehicles, officers became suspicious of the relationships between them.
Police said two young female passengers were found in separate vehicles, each with tinted windows.
They were sitting in the back seat with no identification. The passengers are from B.C. and are not related to the suspects, police said. Their names are not being released.
All of those involved with the human-trafficking case will have their matters addressed once again in Swift Current on March 11.