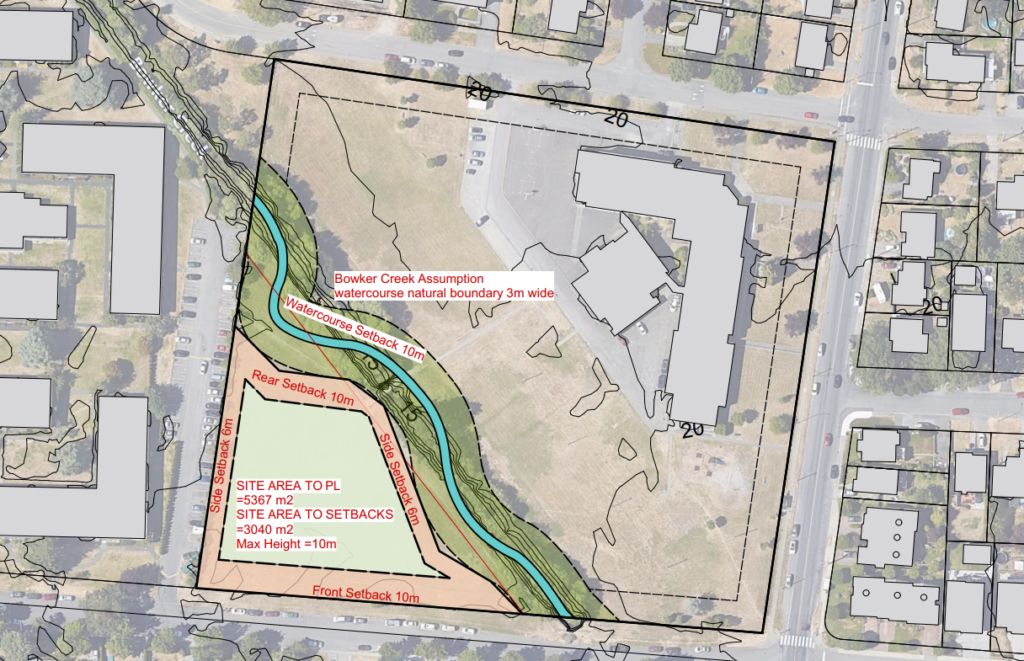 Photo courtesy Greater Victoria School District
Victoria Hospice has announced it is withdrawing its proposal to buy a parcel of land from the Greater Victoria School District (SD 61) that is adjacent to Bowker Creek.
The previous school board had approved the sale of land to the group with a vote of 4-3, however, the move was controversial not only because school advocates said the land could have been used for student learning, but also because two trustees were suspended at the time who had been opposed to the sale of land. A judge has since ruled the board did not have the authority to suspend the two trustees.
READ PREVIOUS: Greater Victoria School Board does not have authority to remove trustees: judge
Now, Victoria Hospice says it has withdrawn the application after community consultation.
"After careful consideration we have determined that the Richmond Road site is not the right location for our new facility," said Trudi Brown, Victoria Hospice Society board chair.
"We appreciate the input we have received from the community that helped us reach this decision and we remain committed to finding a new location where we can continue to offer compassionate end-of-life care."
Victoria Hospice says it consulted with the Friends of Bowker Creek, the Bowker Creek Initiative, the Camosun Community Association and neighbours to come to the decision.
"Victoria Hospice is built on community and lasting relationships, and we understand the concerns raised about the potential impact of development around Bowker Creek," Brown said. "We want to celebrate any new location in partnership with the community and look forward to doing so in the future."
"We are exploring all available options in our ongoing search for a new location and modern campus of care for the community."
READ PREVIOUS: