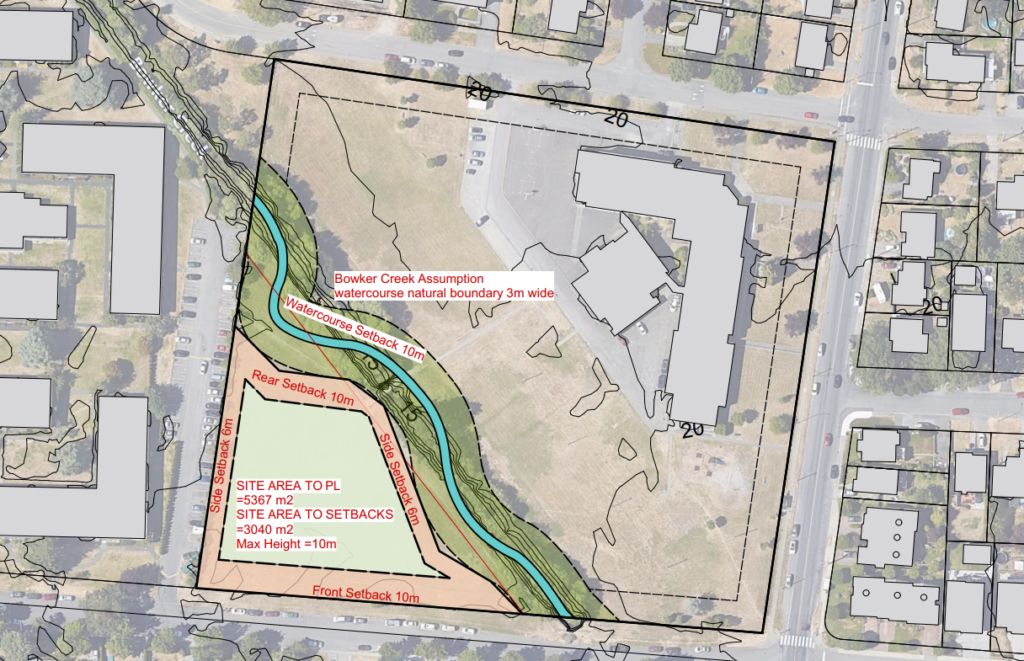 The Greater Victoria School Board (SD 61) has voted 4-3 to approve the sale of land next to Lansdowne Middle School to the Victoria Hospice Society.
The 1.28 acres of land south of Lansdowne Middle School will be sold for $2.5 million. Before the sale is finalized, the Ministry of Education will need to give final approval.
"Through our public engagement process, we have heard strong advocacy from those in support and those against the sale of the land with concern over the health of Bowker Creek watershed. It was a challenging decision for our Board to make but we have found a partner who is truly committed to rehabilitating the creek and making site improvements that will benefit the community," said Ryan Painter, board chair in a statement.
"In addition, the monies from this sale will provide opportunities to help advance the Board's climate action plan. We are currently looking to design a net-zero ready replacement school for Cedar Hill Middle—proceeds from this sale will help the District construct a sustainable building that will offset greenhouse emissions."
Victoria Hospice Society plans to use the property to develop a new home for Victoria Hospice, while the remaining lands will be used to expand and make improvements to Bowker Creek, according to the district.
"Following approval from the Ministry of Education, part of our due diligence for the sale involves in-depth feasibility work to be conducted over a 90-day period," said Victoria Hospice CEO Kevin Harter. "It's still a long road ahead but we are cautiously optimistic about this ideal site for a new home for Victoria Hospice."
This approval comes while two trustees who have been censured and suspended have filed a petition with the BC Supreme Court asking to review whether the board has the legal authority to suspend trustees.
Diane McNally and Rob Paynter were suspended from the SD 61 board due to allegations of bullying and harassment.
Previously, McNally and Paynter have previously voted in opposition to the sale of land before their suspension.
Paynter tweeted implying were they part of the vote, he and McNally would have voted against the sale.
And with that 4 votes to 3, #sd61 sells off another piece of itself for dubious reasons. 2 more trustees voting against the sale would have made this difference, just saying… #Judicialreview! @sd61schools

— Rob Paynter (@RobPaynterSD61) March 15, 2022
Additionally, during the meeting stakeholders, including the Songhees First Nation, Greater Victoria Teachers' Association, and Victoria Confederation of Parent Advisory Councils continued their boycott of the meetings, opposing the suspension of McNally and Paynter.