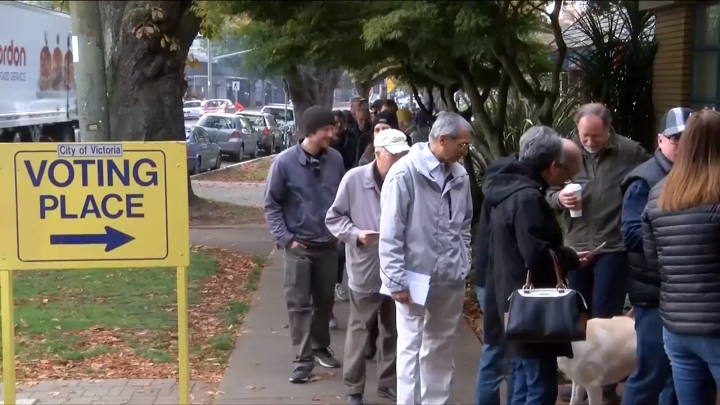 B.C.'s NDP government is giving Victoria City Council a reality check on a motion it passed to extend voting rights in municipal elections to Permanent Residents.
In a letter to mayor Lisa Helps dated April 9th, the minister responsible for local government says that while she applauds the city's commitment to improve the experience of newcomers to B.C., such a change would need thorough review.
"Any change to voter eligibility in local elections would require careful  consideration and analysis of legal and constitutional implications," writes Selina Robinson.
"Particularly considering that Canadian citizenship is currently a key requirement for voting in federal, provincial and local elections."
In 2015, Victoria had just over 2,100 permanent residents, about three per cent of the voting population.
Victoria city councillor Shamarke Dubow has been heading the move to extend the vote.
Dubow came to Canada after fleeing Somalia when he was eight-years-old. He spent around 20 years stateless, but eventually came to Canada in 2012 and called Victoria home.
In 2017 he became a citizen and for the first time ever he was able to vote in the municipality. He says the change would go far in making new Canadians feel involved and heard.
"People who live here, pay taxes and are helping build our communities will on minimum miss one to two elections as it takes at least five years to become a citizen," said Dubow in an interview in mid-April.
"So many cities have explored this option… Port Moody, Vancouver, New Westminister… this is not a new idea."
Earlier this month, the Association of Vancouver Island Coastal Communities approved the idea Saturday at their annual convention.
It will now be presented to the Union of B.C. Municipalities in September, if it passes it will then be sent to the province for consideration.
Robinson also advised Victoria council that the UBCM would be the best path forward for the motion.
"Resolutions endorsed by the UBCM membership at its annual convention are communicated to the Province for response," she writes.
"The Province would then need to consider the proposed amendments and conduct a thorough policy analysis that identifies the implications of those changes and to ensure any such proposed changes would strike a balance between the differing views held on this matter."