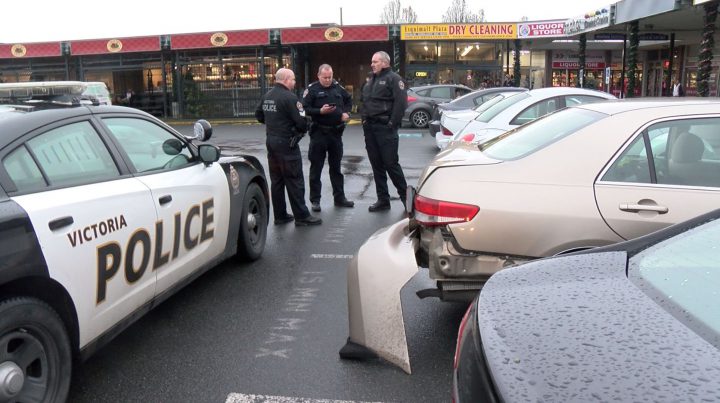 A Victoria police officer and a bystander were injured Thursday afternoon after a man in a stolen car tried to escape arrest.
Acting Sgt. Mike Darling with Victoria police said they had received a report of a stolen vehicle earlier this morning. Officers were investigating Old Esquimalt Road and Head Street when they saw the stolen beige car at the intersection.
"They tried to conduct a traffic stop on the vehicle and it ended up rapidly reversing and crashing into another vehicle that was waiting at the light."
Darling said there were no serious injuries but one of the VicPD members who was out of a police car attempting to arrest the driver and was struck as the man fled the scene. The other driver that was in the vehicle waiting at the light did tell police that they may have a soft-tissue injury.
"The police member is shaken up but fortunately not seriously injured. He was checked out by the paramedics at the scene," Darling said.
The vehicle was found at the Esquimalt Plaza and Darling said the man police believe was the driver was arrested a short distance away.
Darling said there had been reports throughout the day of a similar vehicle driving erratically at high speeds. However, a licence plate number wasn't reported so at this time, police are not sure if it was the same vehicle involved in the police chase.