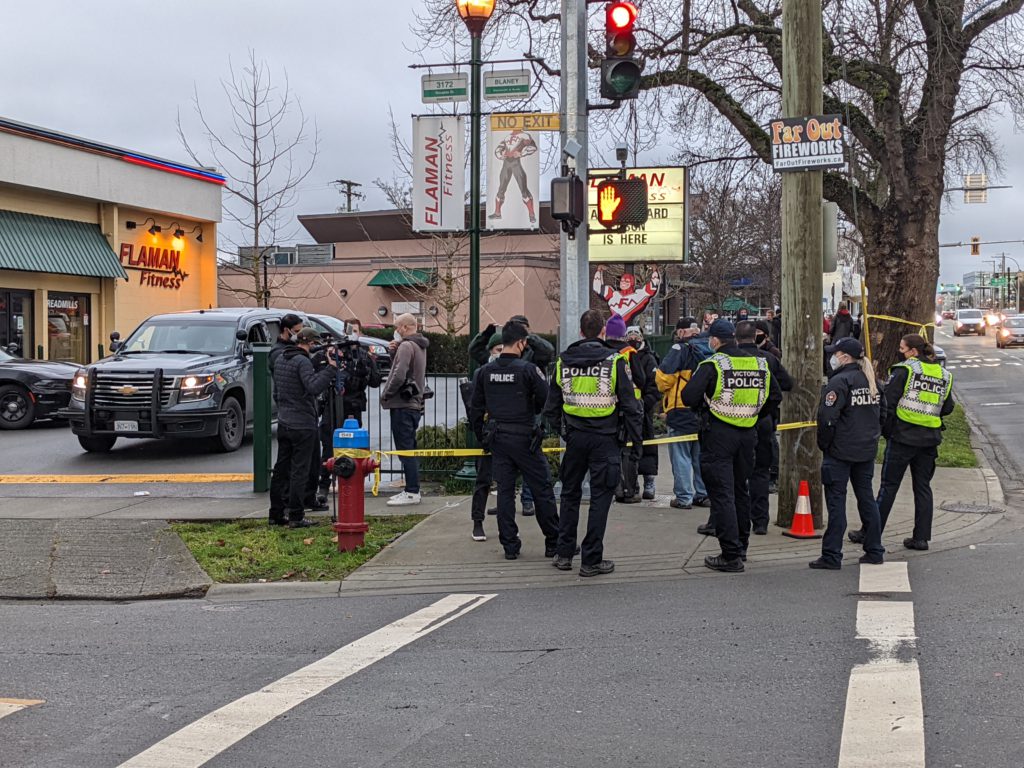 Patrol officers have arrested three people after rush hour traffic was blocked by a group of people on Friday afternoon.
 Just after 3 p.m. today, Patrol officers were called to the intersection of Blanshard Street and Pandora Avenue for a report of people preparing to march on city streets.
Officers say they spoke with the group, who initially remained out of the roadway.
Patrol officers remained on scene, monitoring the situation before the group departed that location and began to block the roadway on Douglas Street.
At one point the group split into two, with one group moving to the 600-block of Johnson Street and blocking traffic there. VicPD says officers had to close several streets in the area to minimize traffic disruptions and keep people safe.
After several warnings, three members of the groups were arrested. Other members of the groups then departed the area.
A previous version of the story is below
Once again, demonstrators blocked the Trans-Canada Highway in Victoria on Friday as part of a series of protests against old-growth logging.
Protestors took to the streets at around 3 p.m. on the afternoon of Jan. 28. marching down Douglas Street, starting near Fisgard Street in Victoria.
"Officers are having to close some roads to [traffic] in the area of Douglas & Fisgard streets as some members of the group are blocking traffic," reads a message from Victoria Police. "We do so to help keep people safe and very much appreciate your patience as we work to resolve this incident."
'Save Old Growth,' the campaign that is behind the protests, is an offshoot of Extinction Rebellion, which is a civil resistance movement.
The group has carried out protests in Victoria, Nanaimo and Vancouver over the last several weeks, each time resulting in arrests.
"The BC government is destroying the country, this is our last resort. We are scared of sitting down on the road but will keep doing it until the government throws us in prison or keeps their own promise to save old growth. Premier Horgan is destroying his own legacy," said Zain, a university student, and an organizer of this campaign.
READ MORE: Five arrested in latest old-growth protest in Victoria
The group vows to continue blocking traffic along the Trans-Canada Highway until action is taken by the B.C. government to stop old-growth logging.
Last week, five activists were arrested by Victoria police after demonstrators took over the intersection at Douglas Street and Tolmie Avenue.
Then on Jan. 24, six protestors were arrested for blocking the intersection of Douglas and Johnson Streets.