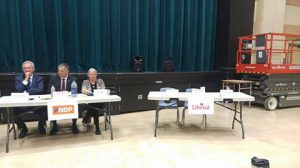 The picture of one empty table says it all.
The Nanaimo District Teachers' Association sponsored an all-candidates meeting Tuesday night at Dover Bay Secondary.
They invited candidates running in Nanaimo, Nanaimo-North Cowichan and Parksville-Qualicum to attend.
But as the event began, there was a glaring absence — no one was sitting at the table set aside for the three B.C. Liberal candidates.
However, all three Liberal candidates say they told organizers at least a week in advance that they wouldn't be able to attend.
The campaign managers for Nanaimo candidate Paris Gaudet, Nanaimo-North Cowichan's Alana DeLong and Parksville-Qualicum candidate Michelle Stillwel said that prior commitments prevented them from attending so they're not sure why an empty table was set up when organizers knew they wouldn't be there.
A Nanaimo District Teachers' Association spokesperson says Liberal candidates also didn't attend last election, so they wanted to draw attention to the fact that they weren't there.
The Nanaimo Chamber of Commerce is hosting another all-candidates meeting and independent forum next Tuesday at Beban Park Social Centre.
Photo/Twitter @bearsmatter