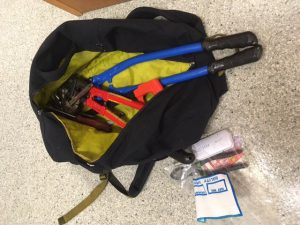 A 45-year old man was arrested and is facing a number of charges after he was allegedly caught trying to steal a bicycle near Oak Bay High School on Thursday.
After receiving reports of  a number of bike thefts at the school, the Oak Bay Police School Liaison Officer hatched a plan.
Const. Markus Lueder decided to use an Oak Bay Police mountain bike as bait on Thursday morning, locking it up near the school.
Police say he waited several hours until a man approached the bike, opened his backpack, and began cutting the lock.
Const. Lueder then moved in and arrested the suspect.
Oak Bay Police are recommending several charges including attempted theft under $5000 and possession of stolen property.