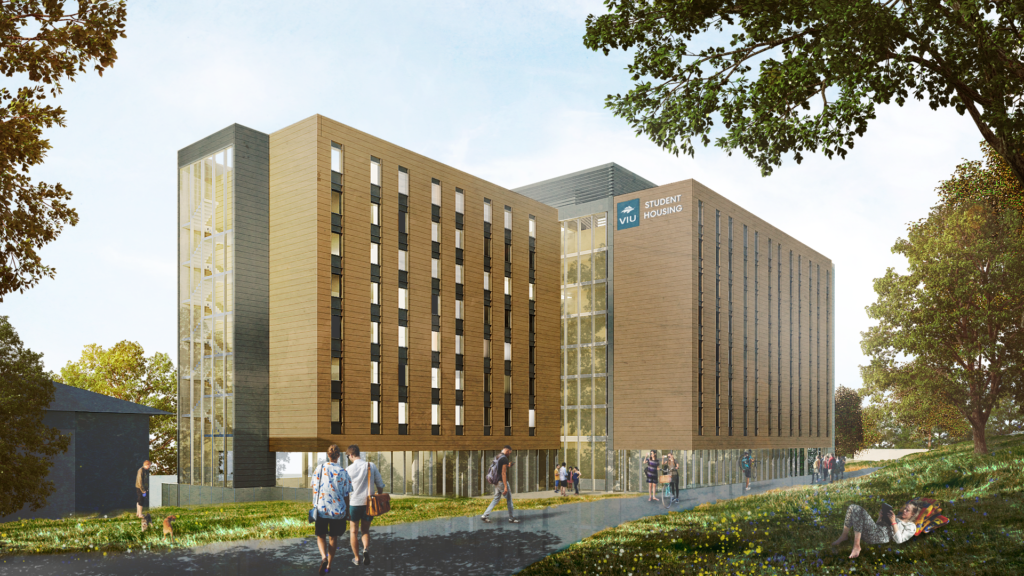 On-campus student housing is coming to Vancouver Island University.
The B.C. government announced Friday that they are contributing $87 million towards the construction of a nine-storey, 266-bed student housing building at Vancouver Island University in Nanaimo.
Construction on the new building, which will also feature a new dining hall and common area, is expected to begin in 2023 and be completed in time for students to move in for the fall semester in 2025.
"Post-secondary students need access to affordable housing to complete their studies, remove barriers to education and lay the foundation for their future – making them future-ready for the jobs of tomorrow," Anne Kang, B.C.'s minister of advanced education and skills training, said in a press release.
"VIU students get affordable housing with this first-ever B.C. funding and it also reduces pressure on the rental market in Nanaimo, freeing up rental homes. This project is a win-win for students and Nanaimo," said Sheila Malcolmson, MLA for Nanaimo.
The new housing will increase on-campus student accommodations from 536 beds to 802 beds, according to the Province.
Deborah Saucier, president and vice-chancellor of Vancouver Island University, said that secure, stable and affordable housing is essential for students to be successful in their studies and that the new building will benefit students.
"At Vancouver Island University, our strategic plan focuses on people, place and potential, committing us to fully support our learners and to welcome a larger and more diverse population. A new student residence building is key to meeting these commitments. Additional on-campus housing promotes a deeper connection between learners and the land our campus is located on, which provides students with a fully accessible space to live while they explore their potential studying at VIU," said Saucier.
Post-secondary institutions on Vancouver Island are seeing an influx of new student housing projects.
At the University of Victoria, a 398-bed building with dining facilities opened on Sept. 1, and a second 385-bed building is under construction and is scheduled to open in September 2023.
At North Island College, work is underway on a $65.9-million project that will see 217 new beds added, according to the provincial government.