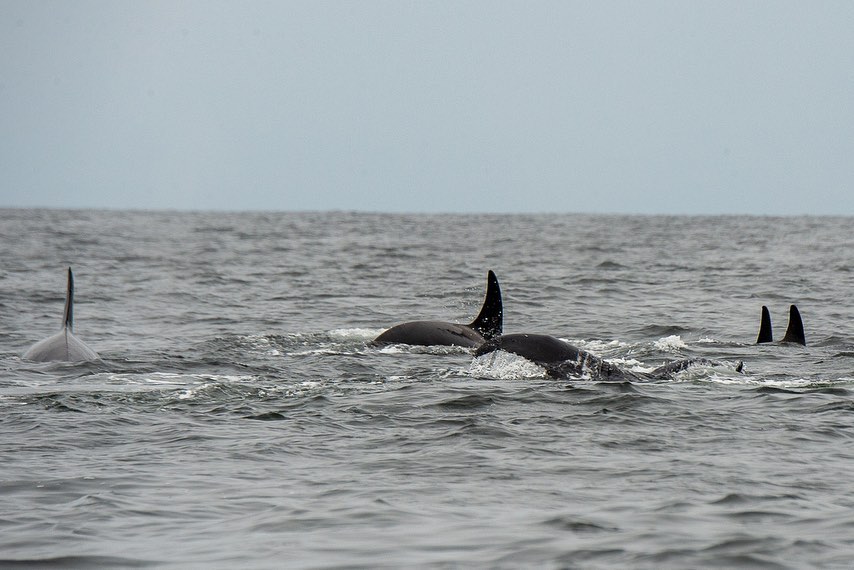 @jftofino via The Whale Centre / Facebook
The Center for Whale Research (CWR) is reporting a decrease in Southern Resident killer whales after its latest census showed an orca population of 73 compared to 74 the year before.
The annual census was completed on July 1 and tracked the number of Southern Resident killer whales, or orcas — a large, extended family comprised of J, K and L pods, according to the CWR.
Although the Washington state-based centre says the orca population had three deaths since the previous census, including K21, K44 and L89, there were also two new births, J59 and K45.
The former calf is female, while the latter's sex is still unknown and both "appeared healthy in recent observations," the CWR noted.
"Within each pod, families form into sub-pods centred around older females, usually grandmothers or great-grandmothers. Male and female offspring remain in close association with their mothers for life," it said.
The new census, however, marked the lowest L pod count since the study began in 1976, according to the CWR. Thirty-two orcas were recorded in the pod this year, down from 33 last year and nearly half the population recorded in 1993, when there were a record 59.
"K pod sits at its lowest number in the last two decades, at 16 individuals. With no mortalities and a single birth, J pod now totals 25 individuals," the CRW said.
Southern Resident killer whales are often spotted in waters around Vancouver Island, including in the Greater Victoria area. On April 12, for example, a group of tourists had a front-row seat to a show put on by a pod.
READ ALSO: Humpback whale takes on a pod of transient killer whales
But concerns for the species continue.
In June, the Washington Department of Fish and Wildlife (WDFW) declared 13 killer whales vulnerable due to their poor body condition, and one because of a late-stage pregnancy.
"We're taking action today to address these immediate concerns, and we continue working with our partner organizations to implement the Governor's Task Force recommendations for the long-term health of these orcas," WDFW director Kelly Susewind said in a press release at the time.
Throughout the 1960s and early 1970s, the population of the three pods was "significantly" reduced due to killer whale captures, the CRW explains. It says at least 13 were killed during captures, as 45 were delivered to parks worldwide. By 1974, 71 orcas had survived.
"The Southern Resident population grew during the late-1970s, 1980s, and mid-1990s, peaking at 98 animals. However, the population trend turned downward in the later 1990s, declining from 98 to 78 whales by 2001," the CWR said.
In April, Transport Canada announced measures to protect endangered killer whales, including expanded closures for commercial and recreational salmon fisheries in parts of the Salish Sea where they feed.
The CWR plans to update its census on Dec. 31.