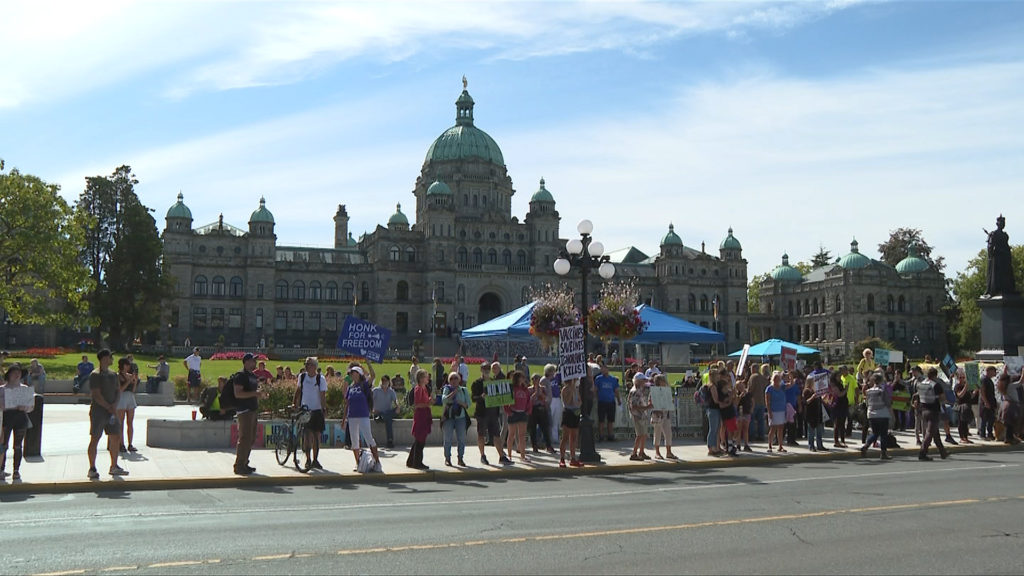 A man was arrested at an anti-vaccine card protest Monday after he allegedly doused someone with hot liquid, according to Victoria police.
Police were at the protest, held at the BC Legislature, to ensure the gathering remained peaceful when the assault occurred.
Officers arrested the attacker and moved him and the victim away from the area to gather additional information, but some members of the crowd followed them, VicPD said in a news release.
"Additional officers responded to protect those involved in the incident and to allow the investigating officers to do their work," police said.
The victim who was attacked with hot liquid sustained non-life threatening injuries but declined medical treatment, while the man who poured the liquid was transported to Victoria police holding cells.
No charges have been laid so far, police said.
Victoria police said they were on hand at multiple places including Royal Jubilee Hospital to make sure patients and staff had unimpeded access to the building in the event of protests.
While protests did not materialize at RJH, protesters did hold events at Centennial Square and outside of local media outlets including CHEK News.
B.C.'s vaccine card went into effect Monday, requiring proof of at least one dose of vaccine at many non-essential businesses including events, restaurants and movie theatres, with a second shot required by Oct. 24.
Anyone with information on the assault at the B.C. Legislature is asked to call Victoria police at 250-995-7654 extension 1, or Crime Stoppers at 1-800-222-8477.