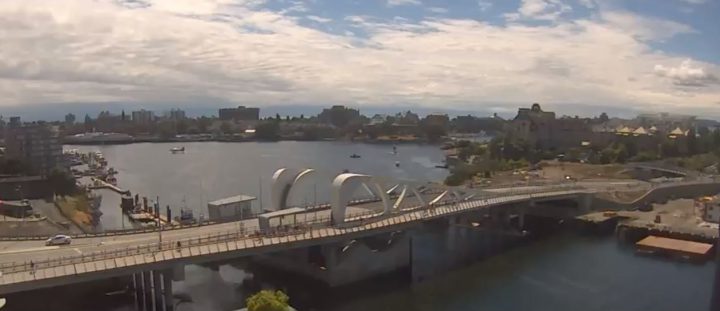 A new observation deck that lets pedestrians walk under the Johnson Street Bridge deck and view the internal machinery will open Wednesday.
The City of Victoria said starting at 6 a.m., the south-side pedestrian-only walkway and the bascule pier observation deck, where people can see the machinery that raises and lowers the bridge, will be open for public use.
The walkway connects from Victoria West to the downtown area. The pathway is only for pedestrians and those on wheelchairs or mobility devices. It is not open for cyclists, who can cross the bridge via the main vehicle deck and the multi-use pathway on the north side of the bridge. Cyclists who want to go to the observation deck have to dismount on the pathway or park their bicycle on either end of the bridge and walk in.
The city said the plazas connection the downtown and Victoria West to the bridge will be enhanced in the next few months and in 2020. The southeast plaza will be developed to connect Reeson Park to the Johnson Street Bridge underpass, linking the David Foster Harbour Pathway north and south of the bridge. The new plaza on the southwest side of the bridge connects the bridge to Victoria West via the West Song Walkway and Harbour Road and will form part of the future waterfront park.