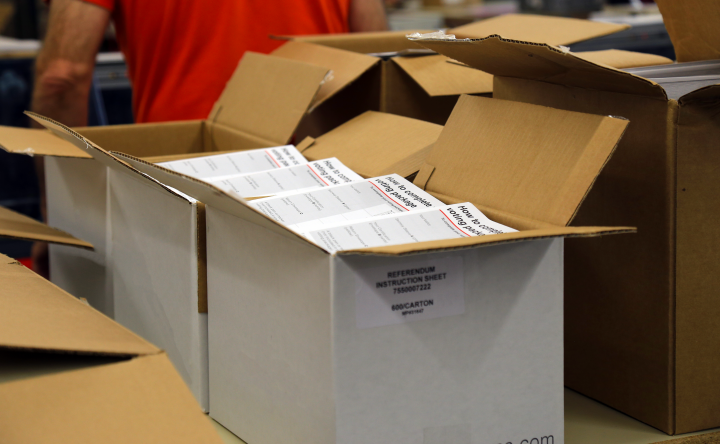 Elections BC says it has started to mail voting packages to registered voters for the 2018 electoral reform referendum, although Greater Victoria residents are not expected to get them until next week.
The voting period started Monday as British Columbians are being asked if they want to keep the existing first-past-the-post system in B.C. elections or move to proportional representation.
Chief Electoral Officer (CEO) Anton Boegman said Vancouver Island voters north of the Malahat should receive voting packages this week.
Boegman says voters in the capital region likely won't get their packages until next week.
Elections BC expects package deliveries to be completed by Nov. 2 and it is monitoring the rotating strike action by the Canadian Union of Postal Workers (CUPW), which started Monday in cities across Canada, including Victoria.
Officials say should the job action by postal workers impact the referendum process, the CEO has the authority to extend the voting period if necessary.
Voters have until 4:30 p.m. on Nov. 30 to return their voting package to Elections BC, which says the referendum voting period has not changed as a result of rotating postal strikes.
People who support an electoral system change will be asked a second question on the ballot to rank the three models of proportional representation.
Participants are encouraged to return their voting package early to ensure it is received early by Elections BC, which can also be returned to any Service BC Centre or Referendum Service Office starting Nov. 5.
Office locations will be made available later.
This is the third time British Columbians have voted on whether to change the electoral system since 2005.
A simple majority of votes is needed for the system to change this time around as 60 per cent of the vote was previously needed for a new system.