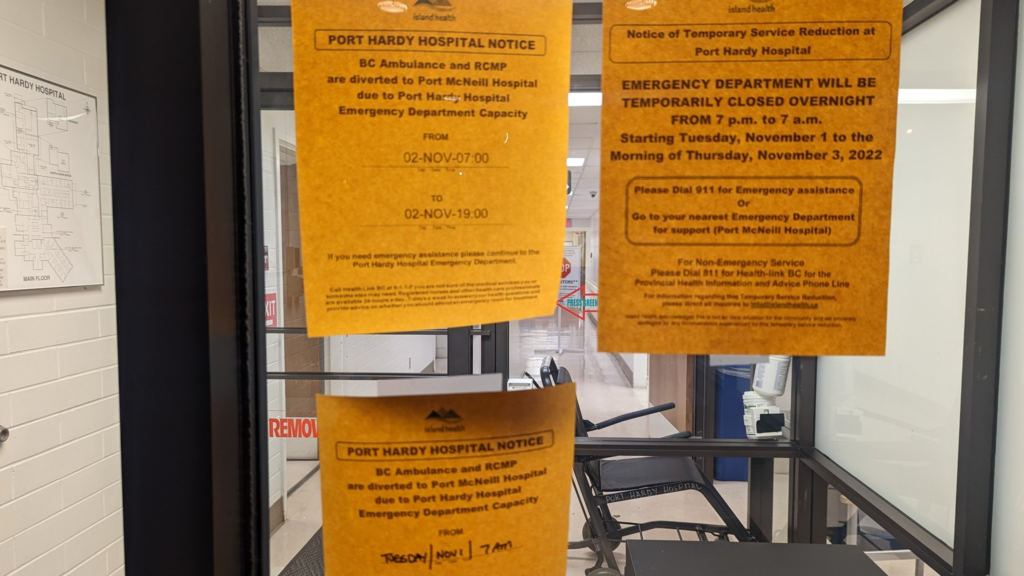 A Vancouver doctor answering an urgent call to help staff Port Hardy's emergency room so it could stay open says he was stunned when he arrived and found out there weren't enough nurses for him to do his job.
Dr. Anthony Fong arrived in the northern Vancouver Island community Tuesday for a three-night stint at the Port Hardy Hospital ER, which has been faced with almost nightly closures brought on by doctor and nursing shortages.
After the ER was closed overnight 28 out of 31 days in October, Island Health issued an urgent plea for a physician to come help.
But Fong says when he arrived, he walked into a "closed" sign at the hospital.
"When I arrived I was shocked, honestly, because there was signage on the door saying there was going to be a closure of the emergency department that same night," he told CHEK's Rob Shaw on Wednesday.
As an ER doctor, I arrived in Port Hardy BC today thinking I was going to prevent an ER closure… Well, I didn't. The ER is closed anyway due to a last minute #nursingshortage! #bcpoli pic.twitter.com/XfWkBFUpHZ

— Anthony Fong MD👨‍⚕️🇨🇦 (@fongafriend) November 2, 2022
"Sure enough, I found out that basically the people orienting me, the message that they had was 'I'm sorry you came up here but you won't have much to do because we're closing anyway at 7 p.m. because there's a last-minute nursing shortage.'"
Fong said he remained at the hospital helping a dozen or so in-patients in other departments, but without nurses to respond in an emergency.
He said he got a street-level-view of the frustration Port Hardy residents have been feeling toward the heath-care system, as they've had to drive at least 30 minutes to Port McNeil for the last month in an emergency.
Port Hardy's hospital needs two registered nurses and one licensed practitioner nurse to keep its emergency department open, and on Tuesday, it had no RNs.
The BC Nurses' Union says recruiting is difficult due to housing and Island Health doesn't make it financially worthwhile for nurses from other communities to travel to help.
Island Health provided a statement to CHEK News Wednesday reiterating that the nurse staffing requirements to keep the ER open are to maintain patient safety.
"Island Health, working in partnership with the Ministry of Health and other partners, has made significant progress in securing physician coverage for Emergency Department shifts at PHH," the health authority said in a statement. "However, like all regions in B.C. and across Canada, we continue to be challenged by a shortage of emergency department trained and experienced nurses."
Regarding the specific closure that affected Fong, Island Health confirmed it did not have enough coverage to safely open emergency, and in these cases doctors still work an on-call shift for inpatients as well as residents at an adjacent long-term care home.
"In situations where there is sufficient time to make alternate arrangements, Island Health will make efforts to arrange to have locum physicians provide walk-in services at the primary care clinic in Port Hardy," it said.
When asked about the situation by Shaw, Health Minister Adrian Dix maintained the government is taking "extraordinary actions" to support Port Hardy.
"We are going to continue to do that over time, and in addition to that the increases and improvements we've made in B.C. Emergency Health Services in terms of air ambulances are really important in that regard as well," he said.
Fong said he went public with his concerns to highlight the depth of the health-care human resources crisis and how complex the problem is in small Vancouver Island communities like Port Hardy.
The BCNU says Island Health needs to do more than offer to pay for gas for nurses to make the long drive from other communities, as a start.
The doctor shortage has impacted most of British Columbia, prompting the government to overhaul its compensation model for family physicians earlier this week, but hospitals and ERs on the North Island have been particularly hard-hit.
Two doctors have left Port Hardy Hospital in the last two months and while Island Health says nine doctors remain across the North Island, they are not enough to cover every day and night at three ERs in Port Hardy, Port McNeill and Cormorant Island, the latter of which was closed every night last month.
With files from CHEK's Rob Shaw.
Correction: An early version of this story stated that Island Health refused comment on the latest Port Hardy ER closure when in fact, the health authority had provided CHEK News with a statement prior to the article being published. We regret the error.