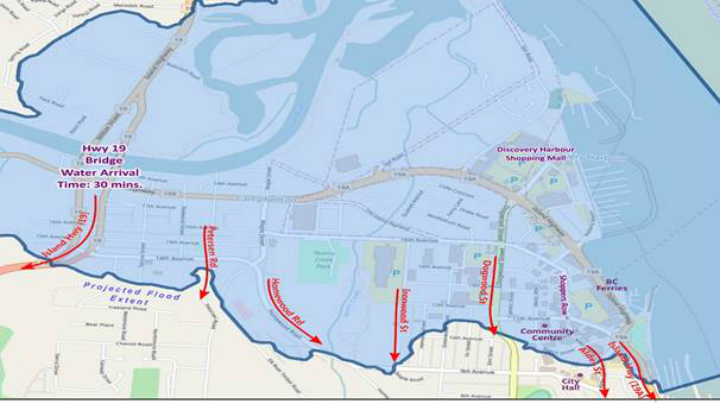 The City of Campbell River is asking residents to take part in an exercise to test how ready people are in the event of a major earthquake.
The "Shake Out and Get Out" is Oct. 18 and designed to create awareness of the flood zone and evacuation routes, test evacuation actions and time how long it takes to get outside the flood zone following a major earthquake.
"There's a risk of failure at the John Hart and Strathcona dams after a major earthquake, and that could mean flooding in low-lying areas, including the downtown area," Stephen Watson of BC Hydro said in a release.
"Depending how close people are to the river and how far upstream, they will have between 30 and 60 minutes to get outside the flood zone once the shaking stops," Strathcona Regional District protective services coordinator Shaun Koopman said in a statement.
Anyone in Campbell River wanting to take part in the exercise Oct. 18 can do so starting at 10:18 a.m. by dropping and covering under a desk or table for two minutes, the anticipated minimum time shaking would last during a major earthquake.
At 10:20 a.m. after the "shaking" stops, count to 60 and then begin your evacuation plan.
Then at 10:24, participants will evacuate to the nearest designated exercise checkpoint on foot for by bike to register, and then return to your original location.
The checkpoints located outside the flood zone and set up by 11:24 a.m. include:
·         Maritime Heritage Centre
·         City Hall
·         École-Phoenix Middle School
·         Woodburn and Spring roads intersection
·         9th Avenue & Ironwood intersection
Koopman says the checkpoint locations would not be set up following a real earthquake and were chosen to illustrate the perimeter of the flood zone.
People who are in the flood zone and take part in the exercise can be entered to win an emergency preparedness prize when they register at a checkpoint.