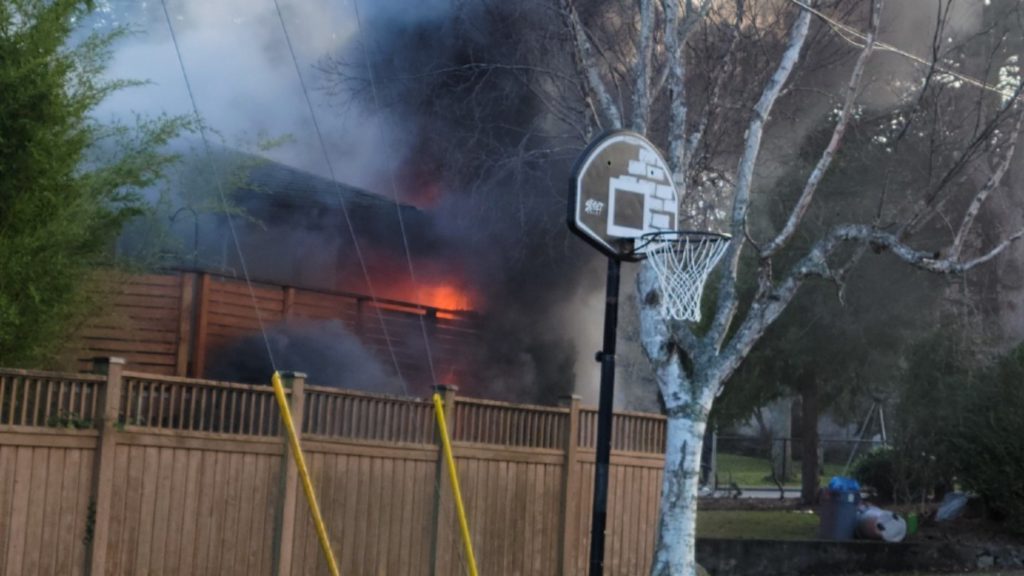 One person has been arrested after a fire, believed to be arson, badly damaged a house in Victoria's Fairfield neighbourhood, according to police.
On Jan. 20, around 2:45 p.m., crews from the Victoria Fire Department notified VicPD officers of a suspicious fire in the 1900-block of Richardson Street at Lawndale Avenue, across from Pemberton Park.
When officers arrived on scene, the single-family house was fully engulfed in flames and, despite firefighters' best efforts, "extensively damaged," VicPD said Thursday.
Upon investigating the blaze, VicPD says officers received a call from Oak Bay police, who reported a suspect allegedly involved in the case was at their detachment.
The officers then went there, arrested the suspect and transported them to VicPD cells before bringing them to hospital for a mental health assessment. The suspect was held in custody pending court, police say.
Battalion Chief Tim Loewen spoke with CHEK News on scene and, after crews extinguished the flames, described the fire as "fairly large and fully involved," noting at the time that it appeared to have sparked in the house's garage.
"Just by where the flame and fire and the intensity of it was, we believe it started somewhere near the vehicle or in the vehicle," Loewen said in an interview.
The parked car was completely gutted, along with a downstairs suite, according to the chief, who added that "the upstairs, obviously, has immense water and smoke damage but is fairly structurally intact."
Video also shows the house's porch charred and destroyed, and Victoria Fire said before crews even arrived on scene they could see a large plume of smoke wafting into the sky above the property.
No one was home at the time of the fire, VicPD adds.
"I just heard a couple of booms, and then my husband, he went outside and came down the sidewalk and said, 'Well, there's smoke there.' So I just ran and called the fire department, and actually, our neighbour across the street had already called in," one neighbour told CHEK News.
The fire continues to be investigated as arson.
Anyone with information about the incident or surveillance footage captured in the 1900-block of Richardson Street on the afternoon of Friday, Jan. 20, is asked to call VicPD's report desk at 250-995-7654.
View this post on Instagram