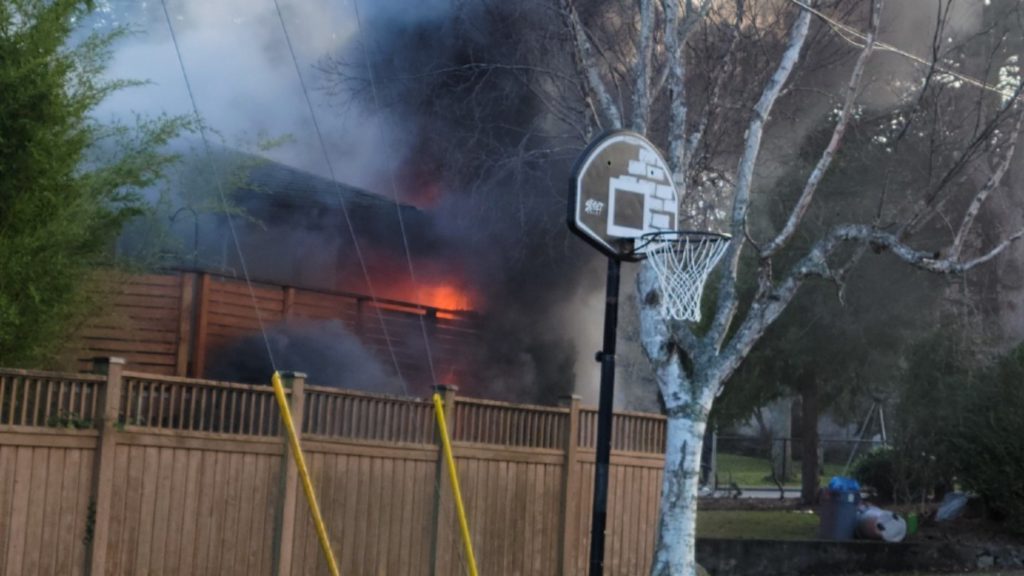 Parts of Victoria's Fairfield neighbourhood came to a standstill Friday afternoon when a house caught fire, leaving some areas of the structure "completely gutted," according to fire crews.
Emergency crews were called to the structure fire in the 1900-block of Richardson Street at Lawndale Avenue, across from Pemberton Park, around 2:45 p.m., a caller who lives nearby told CHEK News at the time.
The witness said they heard a "very loud blast" before seeing a plume of smoke and multiple fire trucks, along with police, arrive on scene.
Ray Bernoties, former Oak Bay police chief, posted a video to Twitter at 3 p.m. showing the flames and crews from the Victoria Fire Department pulling up to the house. In his tweet, Bernoties urged people to avoid the area.
"Obviously, this is still under investigation. It's a fairly large and fully-involved fire," Battalion Chief Tim Loewen said on scene after the fire was extinguished.
Loewen said it appears the blaze was sparked by a vehicle parked in the house's garage, though investigators are still working to determine the cause.
"Just by where the flame and fire and the intensity of it was, we believe it started somewhere near the vehicle or in the vehicle," Loewen said in an interview.
"There is a suite down below that's completely gutted. The car in the garage is completely gutted as well. The upstairs, obviously, has immense water and smoke damage but is fairly structurally intact. Right now, we're overhauling the attic space to look for hotspots."
CHEK News also captured video of the house's porch charred and destroyed, and another neighbour adds that, luckily, the residents weren't home at the time.
"Fortunately, there's no one injured," they said.
"I just heard a couple of booms, and then my husband, he went outside and came down the sidewalk and said, 'Well, there's smoke there.' So I just ran and called the fire department, and actually, our neighbour across the street had already called in."
Happening Now: House fire across from Pemberton Park #yyj. Emergency Services now on scene. Avoid the area. pic.twitter.com/ermGN15pE0

— Ray Bernoties (@ray_oak) January 20, 2023