Developers say a new 20-storey, 205-unit affordable and supportive rental tower proposed for Victoria's Pandora Avenue will not only help stem a housing crisis, but breathe new life into the area.
The tower, slated for the 900-block, includes a mix of 158 affordable rental homes and 47 supportive homes, plus a 16,000-square-foot community space for recreation and childcare, according to John McEown with BC Housing.
"I think it's going to be a hugely positive impact," said McEown, director of regional development with the Crown corporation, in an interview with CHEK News.
BC Housing is partnering with the City of Victoria and the Capital Region Housing Corporation (CRHC) on the build, and residents will need to apply through the CRHC with eligibility based on income. 
"It's going to breathe new life into this area and revitalize the area, in my opinion, and provide an opportunity for folks living in and around Pandora for housing, which is critically important," McEown said.
While the stretch of road is home to social services like a shelter and supervised consumption site, it's also often populated by people living in tents.
The property will be as secure as possible with security features, including lighting and cameras, and trained staff on-site 24/7 to enforce policies for things like smoking and guests, BC Housing says.
The city will manage the ground-floor recreation space, while a non-profit provider will run the supportive units and offer life skills training, employment help, and other services.
It's a big project, but developers are up for the challenge, especially since it will meet people "at different levels with the supportive housing and affordable rental housing components," McEown said.
Rapid development process
In a way, the project is a first for BC Housing and the city, as development permits can now be issued quicker thanks to a relatively new approval process.
In April, council unanimously voted in favour of a motion that would allow non-profit, government, or co-op housing organizations to skip the rezoning or public hearing process as long as the design is consistent with the city's Official Community Plan.
That made Victoria the first municipality in B.C. to approve an accelerated process for affordable housing city-wide and, at the time, then-Mayor Lisa Helps called it a "bold step" that would cut red tape.
"I think this is one of the first projects, if not the first project to go through this rapid deployment process with the City of Victoria," McEown said.
"We're really excited about the impacts of this. Affordable housing is needed and needed quickly. We're working through that process with the city and hopeful that it will be able to expedite the delivery of this project."
Pending permits and finalized designs, construction is expected to start in 2024 and end in late 2027, with resident move-in set for early 2028.
BC Housing wants to keep neighbours informed and has already hosted public community information sessions this month, with plans in the works to host more in the future.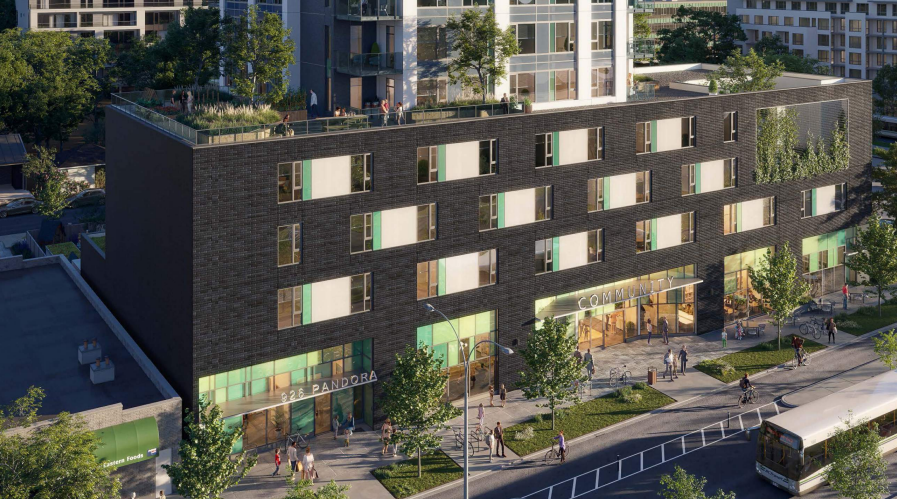 Photos: BC Housing