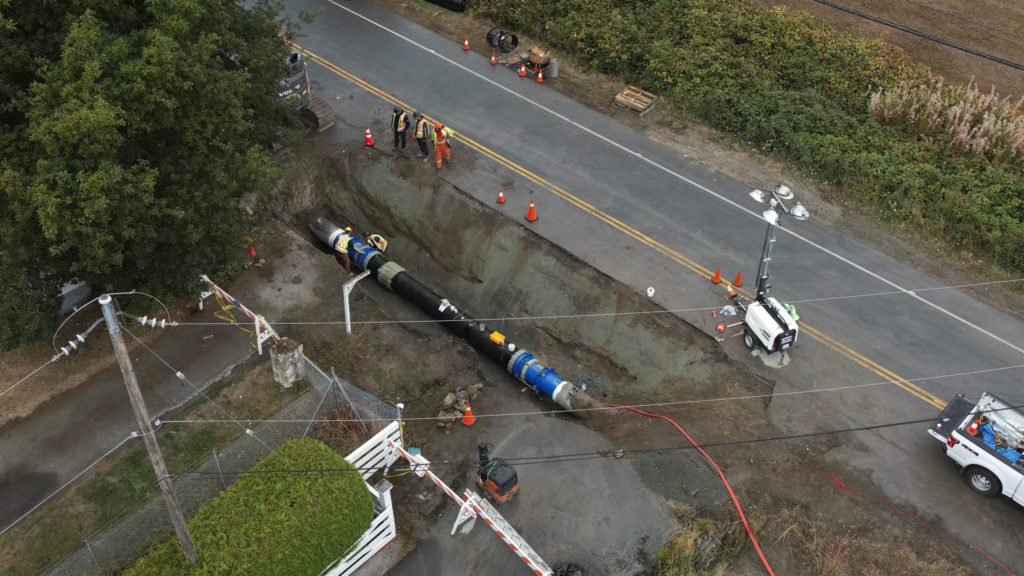 Capital Regional District/Twitter
Crews with the Capital Regional District continue to work to repair a water main leak that is affecting people on the Saanich Peninsula, and estimate it may be back in service on Wednesday.
The leak has impacted the area since Sept. 7, and people living in Sidney, North Saanich, W̱SIḴEM (Tseycum First Nation) and BOḰEĆEN (Pauquachin First Nation) are still affected by the water leak.
People in those Saanich Peninsula communities are asked to reduce water use until the water main leak repair is complete, and there will be reduced water pressure in the area.
The CRD posted an update showing that crews have worked through the night on the repair, and estimate it will be back in service on Sept. 13.
McTavish Road between West Saanich Road and East Saanich Road will open to single-lane alternative traffic Tuesday evening, and Mainwaring Road between McTavish and Bazan Bay roads is open but will have some closures in the coming days.
Crews worked through the night repairing the water main leak near McTavish Road and East Saanich Road.

McTavish Road (between West Saanich Road & East Saanich Road) will be opened this evening to single-lane alternating access.

We thank residents in Sidney, North Saanich,… pic.twitter.com/kcOJWwrkJm

— CRD (@crd_bc) September 12, 2023