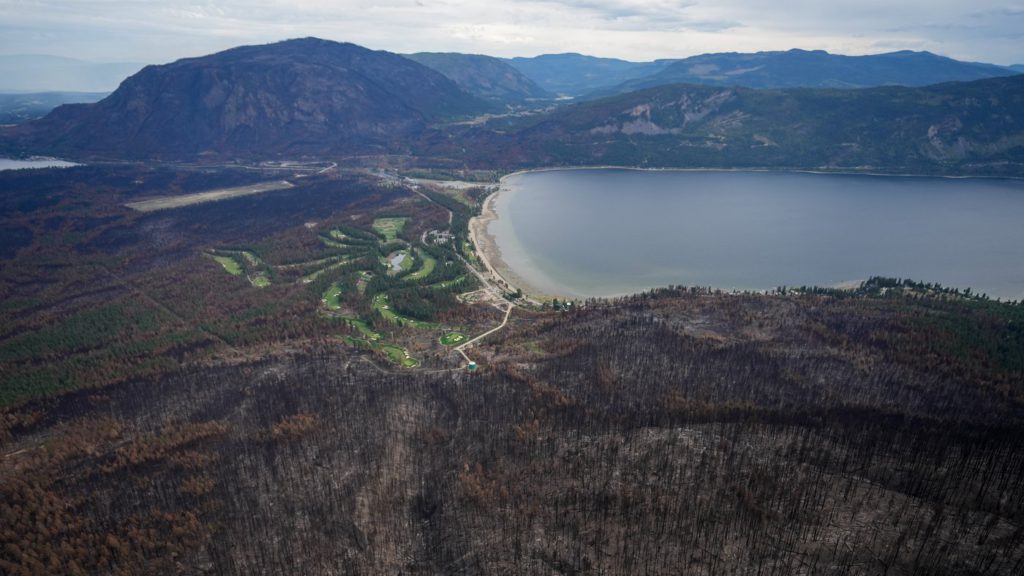 THE CANADIAN PRESS/Darryl Dyck
Climate geoscientist Joseph Shea didn't have to go far to find evidence of what he calls "exceptional" hot and dry weather in British Columbia this year.
He says he was still gathering raspberries in his garden in Prince George in central B.C. last week as temperatures neared 20 C, at a time when the historical average maximum is about 9 C.
"That was kind of fun to pick raspberries, but it has been a really dry fall," said Shea.
An atmospheric river did bring some much-needed rain to parts of southern B.C. last week, and seasonal cool weather has also finally arrived, along with some early snow.
But experts say the province has yet to escape the repercussions of hot, dry weather in spring, summer and fall. River levels remain dire, almost half of the province's water basins continue to suffer drought impacts, and hundreds of wildfires still burn — some deep in the parched ground — as the worst fire season on record drags on.
They say the protracted conditions should force officials to set aside the notion of drought as a transient phenomenon as they respond.
Shea, an associate professor with the Department of Geography at the University of Northern British Columbia, said the drought in central a northeast B.C. is a "pretty critical situation."
Rivers are almost all at record lows, he said. "(They) have been that way since about July. The snowpack melted really early this summer and it just has been a dry period since then," said Shea.
David Campbell, head of the BC River Forecast Centre, said recent rain has been bringing "steady improvements" to the south coast, but the precipitation hasn't made its way to the central or the northeast part of the province.
He said 15 of B.C's 34 water basin regions are at drought level four or five, meaning adverse impacts are likely or almost certain. At the height of the drought in August, 29 basins were at level four or five.
The BC Wildfire Service says about 280 active wildfires are still burning across the province. Karley Desrosiers, an information officer with the service said the extended drought would probably see some large fires smoulder underground until more rain eventually puts them out.
Desrosiers said that in Prince George and further north it will take longer for fires to be fully extinguished because the layer of fuel between the surface and mineral soil can be thicker there.
"That's where the fires continue to burn, especially where it is very dry. Normally, moisture is kind of held in those layers, but in a year like this where we have that extended and more kind of pronounced drought, the fires do burn a lot deeper," said Desrosiers.
She said she expects the number of active fires to drop as more precipitation arrives, combined with cooler temperatures and high overnight humidity.
"As the province receives more rain, and eventually snow, the remaining wildfires on the map will be removed," said Desrosiers.
Oliver Brandes, co-director of the University of Victoria's POLIS Project on Ecological Governance, said drought was once considered a "short-term, temporary and unexpected" weather event in the province. Now it's lasting longer and becoming more severe.
"We have had lots of drought in British Columbia, and it has been intensifying for the last 20 years," said Brandes, who led an expert review about protecting the Hullcar Valley aquifer in 2017, amid concerns about water quality in the Okanagan region.
"In the past, all we had to do was ride them out, but now that's not the case anymore," he added.
Drought in B.C. used to be quite regional, now the drought crisis is "happening everywhere all at once," potentially creating new or worse ecological and community problems, he said.
In mid-July, hundreds of salmon and trout in the Cowichan River died. Brandes said although no exact reason for the deaths was known, low water flow and the drought contributed to weakening the fish population.
The drought also continues to strain ranchers and other farmers.
Cattle rancher Eugen Wittwer, owner of the 280-hectare W Diamond Ranch near Smithers in central B.C., said a shortage of hay caused by the drought has been affecting his business since summer, forcing him to sell more livestock sooner than normal.
Normally the ranch, which Witter has been running for more than 29 years, would have about 300 head of cattle, now there are about 220, he said.
"We usually sell everything in the local market. But because I don't have hay to feed them. I shipped away at least a quarter of my next year's income," said Wittwer, adding that hay prices are four times higher than last year.
"What's happening is that right now everybody has to reduce the amount of animals they keep because the costs are too high to feed them," he said.
Brandes said governments and the community need to respond to the risk of protracted droughts in a "thorough and organized" way.
He said that this year's conditions are very serious. But in another five years, environmentalists might look back and at it as an ordinary drought.
"You can see how it's gonna get more challenging," said Brandes.
"It's really far more important that government provides incentives and building codes to make sure we're structurally using less water, especially outdoor and agricultural use."
It is important to think of ways to conserve water together, he said.
"How can communities work together? How can they share the limited water resources? How do we make sure that water wasters are not wasting water," he asked.
"And that's where I think the trick is. We as a society, we in British Columbia, we'll have to get better at sharing the pain," said Brandes.
Nono Shen, The Canadian Press
This report by The Canadian Press was first published Oct. 24, 2023.