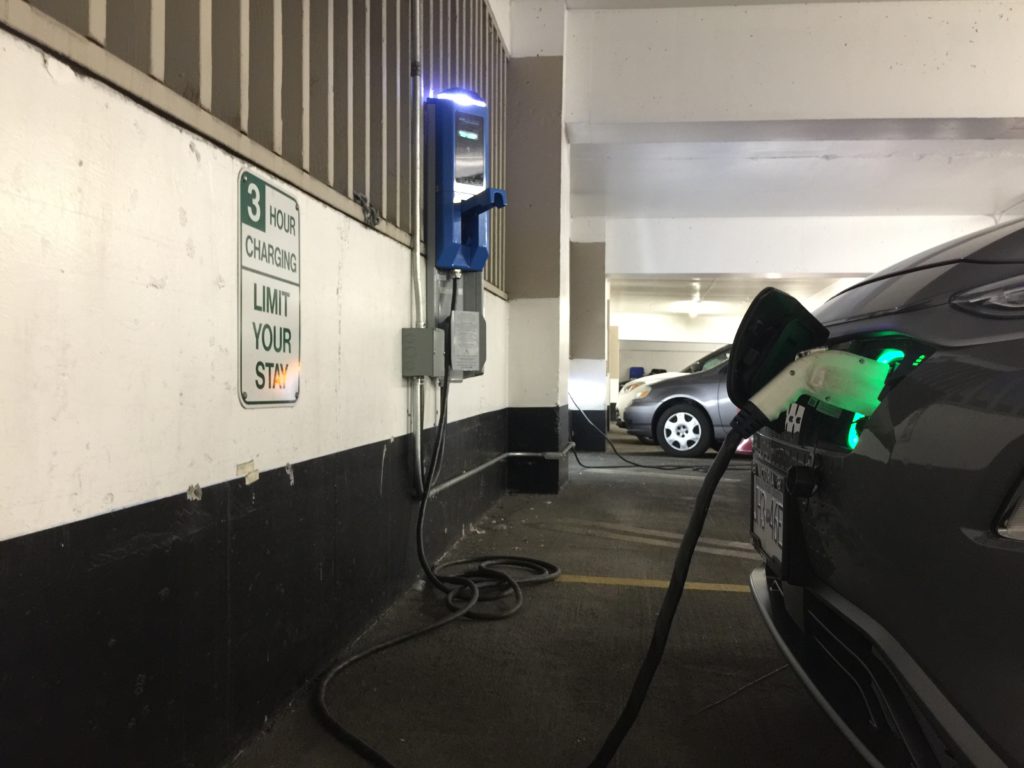 The days of being able to charge an electric vehicle at a city-owned charging station in Victoria for free could soon be coming to an end.
Victoria councillors are set to vote on a proposed bylaw that would permit the city to start charging electric vehicle owners a fee to use city-installed EV power or charging stations. The vote will happen at their upcoming committee of the whole meeting on Thursday, July 9.
According to the proposed bylaw, electric vehicle owners would be required to pay $1 per eight-hour use of a Level 1 EV charger and $1 per hour to use a Level 2 EV charger. If approved, fees wouldn't be introduced until January 2021, and revenue from the fees would be placed into the city's Climate Action Reserve Fund.
There are three classifications or types of electric vehicle charging stations:
Level 1 chargers typically use a 120-volt outlet and require longer periods to charge vehicles.
Level 2 chargers use a 240-volt power source, which is a similar electrical draw to that of a clothes dryer.
Level 3 charging stations, also known as DC fast charging, are 500 volts and can recharge most EVs to an 80 per cent charge in 30 to 40 minutes.
READ: Increasing number of chargers making road trips easier for electric vehicles
Victoria has allowed owners to charge their vehicles for free at all city-owned charging stations since 2013. There 13 city-owned Level 2 electric vehicle charging stations, which are all located in parkades and in prime or preferred parking spots.
According to a recent staff report, the City of Victoria has seen "rapid growth" in the ownership of electric vehicles as well as a surge in demand for charging stations in the past few years.
Introducing charging fees, the report suggests, would allow the city to expand its public EV charging infrastructure, provide more opportunities for other EV owners to use charging stations, and prevent people from unnecessarily using charging stations in order to park in an ideal location.
If fees are introduced, there will likely be a decline in EV owners using city-owned charging stations.
"Experience in other municipalities, such as Vancouver, has shown that the introduction of a fee for use of city-owned EV chargers can result in a short-term decline in use of EV chargers due to a loss of incentive for those users choosing to use the stations to access a preferred parking location," the report said.
However, any decline would be short-lived because there will be a "rapid increase" in people switching to electric vehicles in the coming years, resulting in greater demand for charging stations.
EV charging station use declined by 50 per cent in March, April, and May compared to the same period last year due to the COVID-19 pandemic, according to the city.
Should city councillors approve the bylaw on Thursday, the bylaw would still need to be adopted the bylaw at a future council meeting.
READ: Electric-car sales soaring but Canada still nowhere near goal set in 2009