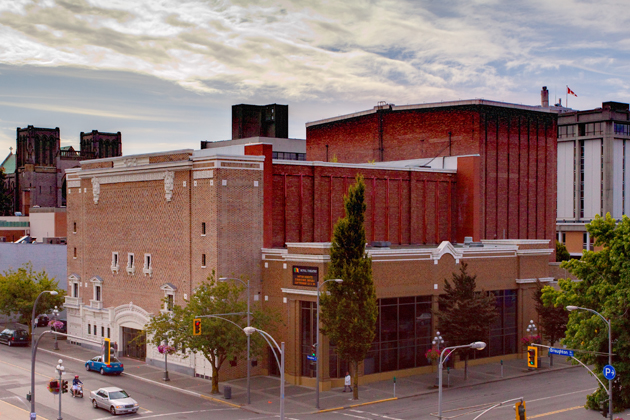 The show will go on at the Royal Theatre for Dance Victoria, Pacific Opera Victoria and the Victoria Symphony, at least for now.
The trio of not-for-profit arts groups has been given a reprieve by the Royal and McPherson Theatres Society (RMTS) on a planned rent hike for the venue.
The move announced last October would have seen rents increase by as much as 100% in September, as well as make changes to booking policies that the organizations were unhappy with.
The Theatres Society says it made the decision following meetings with representatives from the three groups.
"It was heartening to hear all parties recognize that changes need to be made at the Royal Theatre so that it better serves the region,"  said RMTS President Lorne DeLarge.
"The three not-for profit organizations asked for more time to adjust to the changes, and our Board heard that request."
The organizations will now have two full years' notice of rental rate increases, as well as three years' notice to changes in booking policies.
The Royal Theatre User Group which represents Dance Victoria, Pacific Opera Victoria and the Victoria Symphony says the announcement doesn't go far enough.
The Group was also asking for a public stakeholder consultation on the future use and purpose of the Royal Theatre.
"Nor has the RMTS addressed the fundamental issue of access restrictions," a press release reads.
"Which are being made to displace non-profit arts organizations from this publicly owned arts facility, for the benefit of commercial promoters."
The Group is asking for Victoria, Saanich and Oak Bay councils, and the CRD to "endorse a collaborative process to address the sustainability of the Royal Theatre and align the mandate of the RMTS with Victoria's Cultural Policy. "
The RMTS stands by its handling of the situation.
"Changes are being implemented so that the Royal Theatre best serves the region by providing access to more forms of art and entertainment to ensure that this region is vibrant and culturally rich," said Lloyd Fitzsimonds, Executive Director of the RMTS.
"We value the partnership of Dance Victoria, Pacific Opera Victoria and Victoria Symphony and understand that change comes with challenges. We look forward to continuing to host their quality performances at the Royal Theatre."