RCMP with Central Island Traffic Services say three people are very fortunate to have not been seriously injured following a dramatic crash on Highway 4. 
The crash happened near the entrance to Little Qualicum Falls Provincial Park.
First responders got the call shortly before 8 p.m. Saturday night.
Mounties say it appears a Nanaimo man, a novice driver, was heading west in a BMW when he lost control.
The car collided with an oncoming pickup truck with two people from the Qualicum Beach area.
No one was seriously injured despite the car being literally sheared in two.
"It's very remarkable," said Cst. Jeff Pelat with Central Island Traffic Services. "We have one car that is literally torn in half and that driver managed to step out of the car and walk away from it tonight."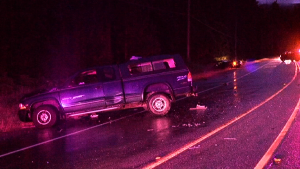 Mounties say the newly wet roads may have been a factor and are warning drivers to be careful.
"We haven't had rain in a long time," said Pelat. "It causes a lot of oils on the road and when we do get rain they tend to come to the surface and roads are extremely slippery right now. I know responding to this call tonight the roads were very slippery."
Traffic was single lane alternating for several hours following the crash.