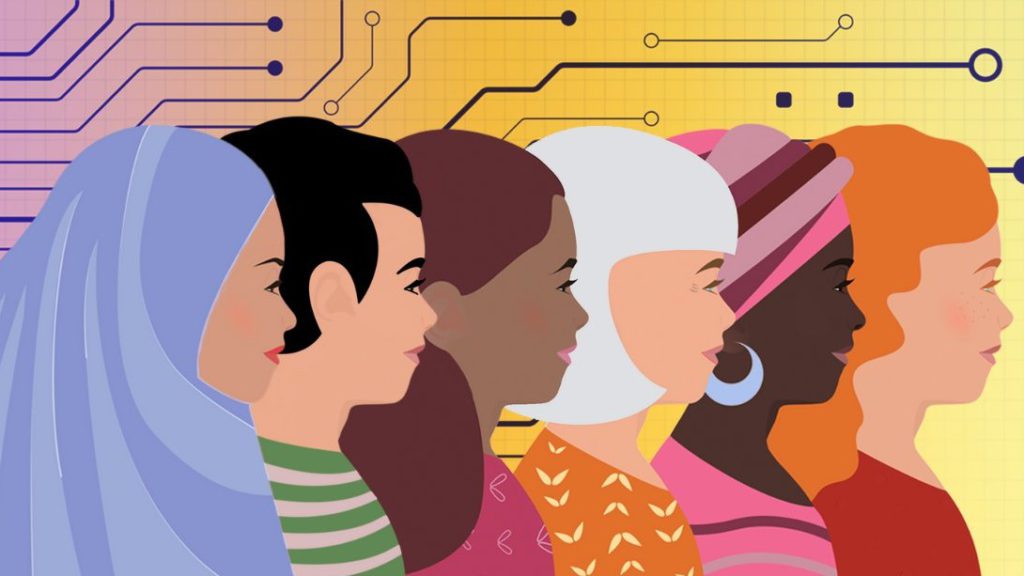 As society makes progress on equality and rights for some women, those who are trans increasingly face hate and violence that needs to be addressed in order to ensure equal rights for all, advocates say.
The most recent example in Canada happened just this week when Hershey's released an International Women's Day campaign titled 'She For Her', featuring five Canadian women.
The line-up, each holding their own personalized Hershey Bar wrapper, includes Fae Johnstone, a 2SLGBTQIA+ advocate; Kélicia Massala, the founder of Girl Up Québec; Rita Audi, a gender and education equality activist; Naila Moloo a climate tech researcher; and Autumn Peltier, an Indigenous rights and water activist.
After the campaign launched, #BoycottHersheys started trending on Twitter relating to Johnstone's inclusion in the campaign and she posted saying "shows just how far we still have to go in the fight for feminist liberation and trans rights."
This is the latest high-profile example of trans women facing backlash just for being who they are, which KJ Reed, a professor of Studies in Women and Gender at Vancouver Island University, says as incidents like this continue to happen, it's important to not shy away from standing up for trans people for fear of facing backlash.
"If you're going to be an ally of the trans community, it's important to be there even when the going gets tough," they said in an interview with CHEK News. "When allies aren't there, it does send a message that the trans community isn't that important, that people aren't willing to stick up for us."
In work for women's equality, Reed says it is important to include trans women because they are women.
"Trans women are women," Reed said. "If you aren't regarding trans women as women, you're assuming some sort of universal women's experience, some sort of unifying force that exists among all women, based on genitals and that's a real problem."
Reed notes there are numerous studies that show trans people face an increased risk of suicide, increased poverty rates and more trouble accessing health care than cisgender people.
A February 2023 study by The Trevor Project found that the acceptance from parents and other family members resulted in the highest decrease in odds of a suicide attempt, followed by acceptance shown by at least one adult, then at least one peer.
Nicola Spurling, an LGBTQIA+ advocate, says studies like this highlight how important it is to accept trans people.
"That's something that I think is really important because I've had a friend who killed herself, just because she couldn't deal with the lack of acceptance," Spurling said. "And that's in Vancouver, where we're generally fairly accepting, so I think, anywhere you go, there's a lot of work to be done on that front."
In the United States, many states are implementing various anti-transgender laws ranging from medical care bans, a "don't say gay or trans" bill, undermining protections against conversion therapy, and other anti-LGBTQ+ measures.
While trans rights aren't under attack from the government in B.C. or Canada, Reed says there are challenges the community faces despite that.
"People who experience discrimination, don't always have the resources or the time to seek redress under the law," Reed said. "So it means taking time off work, it means talking to lawyers, it means accessing a system that requires both time and monetary resources. So just because we have laws doesn't mean that that discrimination isn't happening."
A recent report from B.C.'s Human Rights Commissioner Kasari Govender looked into the rise in hate during the COVID-19 pandemic and found that along with racialized groups, hate incidents against trans people rose dramatically.
Trans and gender-diverse people are more likely to be physically or sexually assaulted by the time they reach the age of 15 (59 per cent versus 37 per cent), and three in five trans women report experiencing intimate partner violence after the age of 16, the report concluded.
Meanwhile, "…police-reported incidents targeting transgender and gender-diverse people increased by 650%" between 2019 and 2021, the report said.
Kelli Paddon, B.C.'s parliamentary secretary for gender equity, says the government knows that trans women, Two-Spirit and non-binary face higher levels of gender-based harassment, violence and discrimination.
"We are committed to equity, to making our communities safer and where opportunities are available to all people, regardless of their gender, ethnicity or other parts of their identity," she said in a statement to CHEK News.
"At a time when trans people are under increased attack around the world, it's up to all of us to stand together, keep speaking out and to help break down barriers that people face."
For International Women's Day, Prime Minister Justin Trudeau said in a social media post that it is important to stand up for trans people as Canada and the world sees a rise in anti-transgender hate.
RELATED FROM NOVEMBER 2022: Flag raised at B.C. Legislature marks Transgender Day of Remembrance
Spurling said with the increase in hate towards transgender people, it is more important now more than ever for allies to support transgender people.
"It's not that they need to step up, it's that they need to step up more than ever now," Spurling said in an interview with CHEK News. "I've been doing advocacy work for trans folks since 2013, so it's been about a decade now that I've been doing this type of work, and the longer I've done it, the more tired I've become, I've had to take breaks for my mental health at times."
In the almost 10 years that Spurling has been advocating for transgender people, she says that there have been some promising advancements in B.C. and Canada.
"The addition of gender identity and gender expression in the BC Human Rights Code, the Criminal Code of Canada, the Canadian Human Rights Act, seeing that conversion therapy ban happen at the federal level, there's been a lot of positive steps, we've seen the Prime Minister marching in a Pride Parade, we've seen huge amounts of funding coming from the government to support Pride. We've seen TransCareBC get formed, surgeries are now available in B.C., where previously you had to go to Montreal," Spurling said.
"So there's been a lot of really positive changes that have happened, but anytime those types of changes happen, there's going to be backlash, and no one's ever achieved equal rights without facing that backlash."
Spurling says there are additional measures she would like to see in B.C., including improvements to funding for procedures and medication, and a provincial ban on conversion therapy.
"As the federal Liberals have stated, it's really important to have those multiple levels of protection, because we don't know what's going to happen," Spurling said. "In politics, we don't know which party is going to come to power, what decisions they're going to make that might affect us."
As for the ongoing movement for women's rights and equality, Reed says it's important to remember that women face a variety of issues and there is no one universal experience.
"I think when we're assuming a universal women's experience that isn't necessarily there already, it tends to be a white women's universal experience," Reed says.
"But if you talk to women of colour, Indigenous women, poor women, disabled women, they're gonna tell you that the idea of a woman's experience, overall, is problematic. It also assumes that there's just two genders: men and women, and we know increasingly, including legislatively, with a third gender option on passports now, that just isn't the case."
Reed says there are steps allies can take to support trans people:
Check on trans people in your life, "because it's a tough climate out there, and just saying, 'hey, how you doing?' And checking in with folks in your life would be great."
Ensuring spaces are inclusive for trans people. "For example, if you are signing your kid up for a sport, and you just see male or female options, ask the organization to include another category. Those are really small things that allies can do that actually take some of the burden of pushing for these changes off the shoulders of trans people."
Try not to assume people's gender, or if you hear someone assuming to gently correct and ask the person to respect the person's pronouns.
"But mostly, I would say, listen to a variety of trans voices. I think that the trans voices that we hear so often are kind of white middle class, people who are medically transitioning, and there are a whole bunch of other folks out there who don't fall into those categories who are still trans. And so just take the time to check a book out of the library from a trans person or get a little more informed about the issues."
-With files from CBC's Yvette Brend