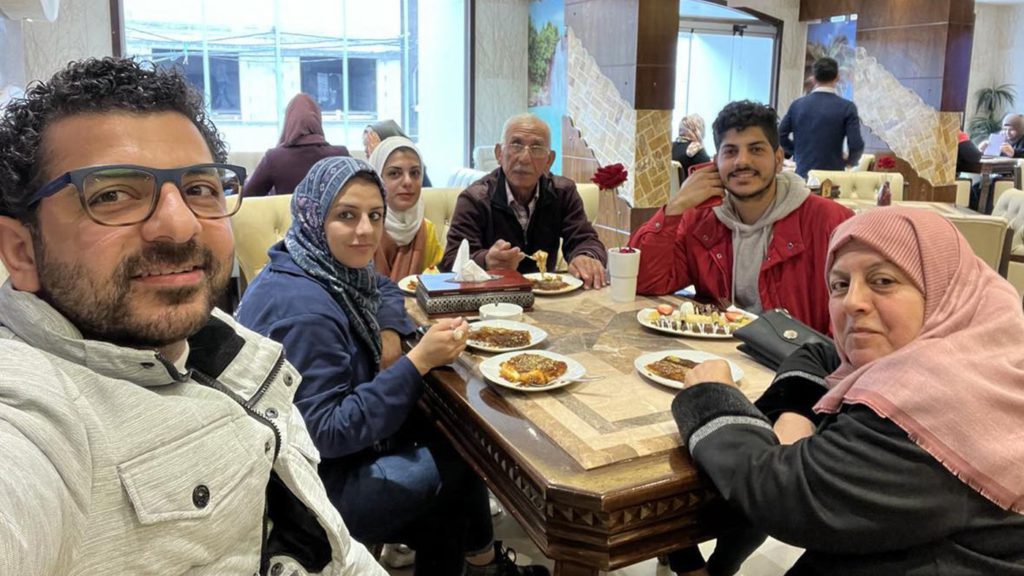 THE CANADIAN PRESS/HO-Omar Mansour
After four days trying to call his family in the Gaza Strip, Vancouver resident Omar Mansour said he was able to hear his brother's voice for a few minutes Monday morning.
Those minutes with his brother, Firas, were a relief: his family had survived the blackout.
Israel temporarily knocked out most communications in the territory late Friday. Prime Minister Benjamin Netanyahu announced on Saturday a "second stage" in the three-week-old war and said Israel is determined to bring back 239 hostages taken by the militant group during its murderous Oct. 7 incursion. Four of the hostages have been released.
Mansour, who works as an IT consultant, said Firas's voice sounded "robotic" because the 2G network in the Gaza Strip is under immense pressure from families trying to contact each other at the same time.
"I call them 50 times and they only get a connection once out of these 50 times."
His family of 11, including his parents, who are in their 70s, are living in their home in the northern part of the Gaza Strip, where they are farmers.
Mansour said his family was better off than many because their home was equipped with solar panels, an invaluable commodity in the besieged territory. The family, like others in the area, had a heavy-duty plastic water tank on the roof of their house.
But most of the solar panels and the water tank were destroyed on the first day of the bombing by Israel, said Mansour, a permanent resident who arrived in Canada in 2014.
"We did have food for a week … two weeks — emergency foods like bunch of cans that we always have in our home," he said.
Israel ordered a "complete siege" of Gaza a day after Hamas's Oct. 7 rampage, preventing food, water and fuel from entering the 40-kilometre-long territory. A water station near his family's house got bombed the day after, he said.
Water has run out and the only liquid they get is through the canned foods, Mansour said. "They haven't had water for the last week," he said.
"They're not drinking anything. What they are eating is the leftovers of the cans that they have. Old bread. And that's it. Some dates that they stored for many, many, many, many weeks. …I even feel guilty being alive."
He said 23-year-old Firas told him the family suffers from nose and ear bleeds because of the bombing.
"When there are bombings, the air pressure just makes your ears and nose bleed."
The air is dusty and stings the nose and eyes, he said, describing what his family told him about the situation. "When you have a tire and you burn a tire? Imagine yourself sitting next to a burned tire for 24 days. It's the easiest way to imagine what it is like."
The Palestinian death toll has passed 8,000, most of them women and children, according to the Health Ministry in Gaza. In the occupied West Bank, more than 110 Palestinians have been killed in violence and Israeli raids.
More than 1,400 people in Israel have been killed, most of them civilians slain in the initial Hamas killings.
Some 800,000 people have heeded the Israeli military's orders to flee from the northern part of the strip to the south, according to Jonathan Conricus, an Israeli military spokesman. Northern Gaza was estimated to have a prewar population of around 1.1 million.
Two of Mansour's sisters, who are doctors in Gaza, have been injured in the bombings, he said. One of his sisters, Rasha Omar, moved to the south of the Gaza Strip to live with cousins, following the Israeli evacuation order.
Soon after, she got injured from shrapnel when she was picking a lemon from a tree that was still standing in the garden of the cousin's home, he said.
His other sister, Ruba Omar, moved to the south of the Gaza Strip with her husband when they were asked to evacuate, he said. Then, the apartment that they were staying in was bombed and she was injured, he said.
The hospital classified the injury on her leg as "not severe," Mansour explained, because the doctors are overwhelmed; she was sent home.
"She's in a terrible situation."
Mansour said he feels helpless that he can't do anything to help his family.
"If they're not going to die from bombing and they go to a hospital to take shelter, they're just going to die. Even just sitting in a hospital," he said. "It's getting colder and colder and winter is coming in and no resources are coming."
Hina Alam, The Canadian Press
This report by The Canadian Press was first published Nov. 1, 2023.
— With files from The Associated Press.