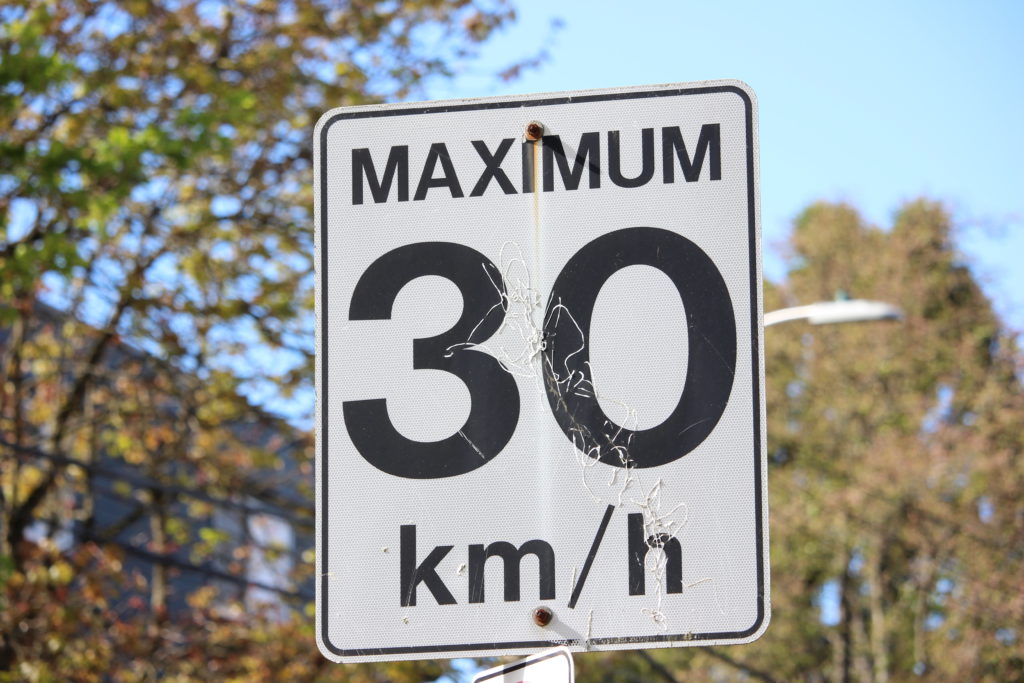 Photo credit: Nicholas Pescod
Starting this spring, speed limits on local streets in Victoria will be reduced from 50 to 30 kilometres per hour.
The City of Victoria on Wednesday announced a rough timeline for the speed reduction, beginning with the Hillside-Quadra neighbourhood. Residents can expect to see new speed limits posted in the area starting May 1.
Currently, local streets have a set speed limit of 50 km/h. Once the change occurs, the new speed limit will be capped at 30 km/h as part of the city's effort to "calm traffic."
Following the traffic calming within the Hillside-Quadra neighbourhood, the reduction will occur in the Burnside-Gorge neighbourhood this fall, and later the Oaklands area come winter.
Story continues below.
According to the city, a local street is considered any side street in a residential area that doesn't have a centre line and is used by less than 1,000 cars per day.
The city said in a news release that this change would not affect major roads like Hillside Avenue, Bay Street and Cook Street.
The reduction was decided upon by city council during a committee of the whole meeting in 2022.
RELATED: Victoria council votes to reduce speed limit to 30 km/h on residential streets
"Victoria is one of only a handful of Canadian municipalities and the first in the Capital Region to reduce speed limits on all local streets to 30 km/h. This effort will be supported with ongoing infrastructure investments like speed humps and other traffic calming measures," said Mayor Marianne Alto.
The move is a part of the city's "We Go Slow" campaign, aimed at calming traffic and making city streets more pedestrian friendly. A similar effort is taking place in Saanich, where the district got the go-ahead to drop speed limits in its neighbourhoods just last month. The change echoes the province's road safety strategy as well.
READ MORE: Saanich council votes to lower speed limit to 40 km/h on roads including Tillicum, Gorge
A jarring statistic from the provincial government highlights the need for lower speed limits in residential areas.
According to its website, the difference of 20 km/h takes the risk of death from vehicle that hits a pedestrian down from 80 per cent to just 10 per cent.
A pedestrian hit at 30 km/h has a 90 per cent chance of surviving
A pedestrian hit at 50 km/h has an 80 per cent chance of being killed
Lowering speed limits is just one of the tools the city uses to calm traffic. Other efforts include introducing speed bumps, speed reader boards, traffic circles, and even full closures.