Commuters heading northbound along the Island Highway in Nanoose Bay faced major traffic delays Monday after a semi truck crashed into a house, according to police.
In an interview with CHEK News, Sgt. Jill Swann with Oceanside RCMP says the collision happened just after 2 p.m. She says no one was home at the time.
Photos of the aftermath posted to social media show the truck after it smashed through a fence and into the house located in the 2400-block of Island Highway East.
Around 2:50 p.m., DriveBC said emergency crews were en route to the scene, noting the incident was affecting northbound lanes of the highway near Arlington Road.
There's no word yet on injuries, but BC Emergency Health Services confirmed at around 5 p.m. that the incident was "ongoing," and that paramedics were first called to the highway at 2 p.m.
Nanoose Bay fire chief Doug Penny tells CHEK News that there are eight people who live in the house, but no one was home at the time of the crash.
Monday evening, Penny told CHEK News firefighters would be on the scene overnight to keep watch on the truck.
EHS did not confirm that an air ambulance was dispatched to the scene, but a CHEK News viewer spotted one nearby, saying it was waiting for the driver of the truck to be extricated.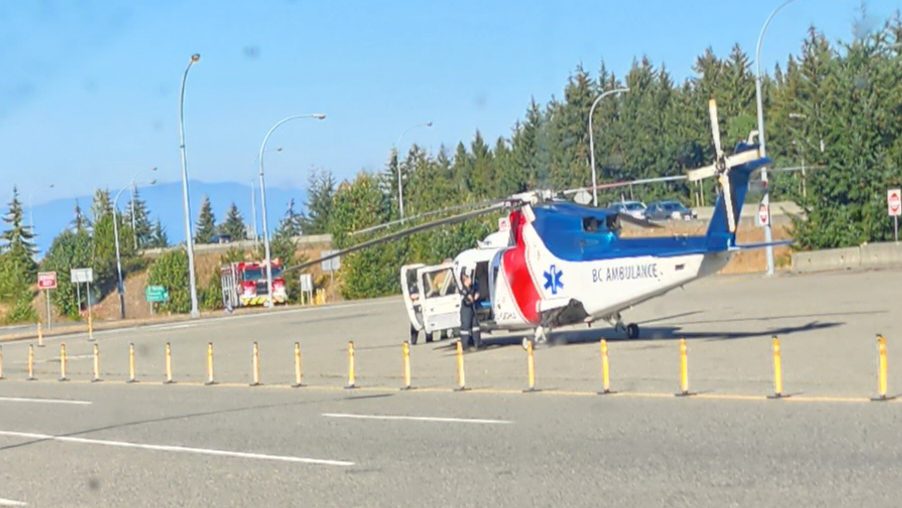 An air ambulance stands by near the scene of a single-vehicle crash involving a semi truck in Nanoose Bay. Oct. 3, 2022. (Submitted)
Traffic is at a standstill just by Nanoose now. Both lanes heading north not moving.

— Jan M 🌻 (@JanSk8erFan) October 4, 2022
CHEK News has reached out to Nanoose Bay Fire, Oceanside RCMP and BC Emergency Health Services for more details. Check back for updates.