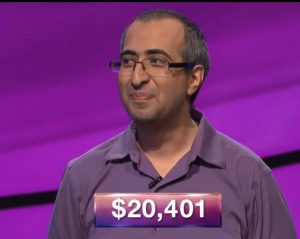 A secondary school teacher from New Westminster, B.C. is the latest Jeopardy! champion.
Ali Hasan was the only contestant to answer Tuesday's Final Jeopardy! question correctly to win what had been a close game.
Hasan had entered the final round in the lead with $10,800.
He correctly answered "Who is Dewey?" to the question "In Nov. 3, 1948 he sent a congratulatory telegram, then told reporters, "I was just as surprised as you."
Hasan finished with a total of $20,401 to beat out two-day winner Deidre Thomas, an attorney from Seattle.
He will try to make it two in a row on Wednesday.
Jeopardy! and its host, Alex Trebek, are in their 34th season in syndication.
With 23 million viewers each week, Jeopardy! is the top-rated quiz show on television.
Jeopardy! airs on CHEK from Monday to Saturday at 7:30 p.m.