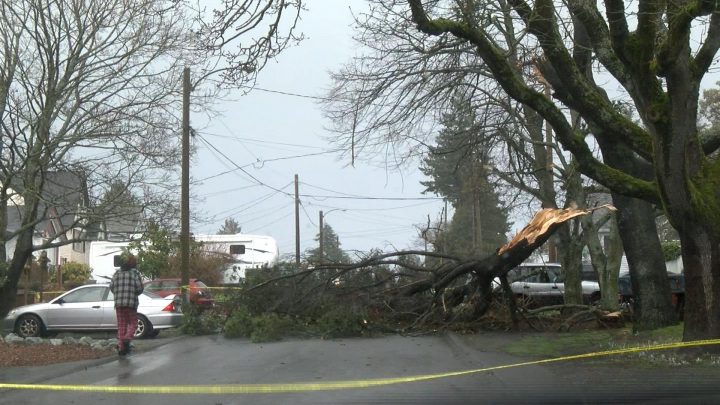 An Arctic front may bring a second round of winds, and new snow for parts of Vancouver Island.
Environment Canada has issued a snowfall warning for east Vancouver Island from Duncan to Nanaimo, and the Southern Gulf Islands.
Amounts may range from a few to 10 centimetres through Saturday evening, into Sunday morning.
Heavy bands of flurries may spread to Greater Victoria and other parts of east Vancouver Island.
A special weather statement warning of possible snow remains for all other parts of Eastern Vancouver Island, Greater Victoria and the Southern Gulf Islands
A wind warning is still in place for Greater Victoria and the Southern Gulf Islands, forecasting winds up to 70 km/h by Sunday morning.
The low that brought 70 km/h winds to the Island Saturday throughout the morning will be replaced by the Arctic front, that will push out from the Interior towards the coast this evening.
Over 9,500 B.C. Hydro customers were without power around 1:30 p.m. Saturday following the first storm.
The University Heights Shopping Centre in Saanich did not have power since around 1:30 p.m.
In Saanich a large branch that fell following the winds narrowly missed parked cars on the 3000 block of Wascana Street near Tillicum Mall, no one was hurt.
"It was really fortunate, the tree fell in the perfect spot, it didn't smash any cars, it did not hit any houses or anybody," said local resident Darcy Gould.
The Arctic air will linger into the work week with daytime highs slightly above freezing and overnight lows approaching minus 10.