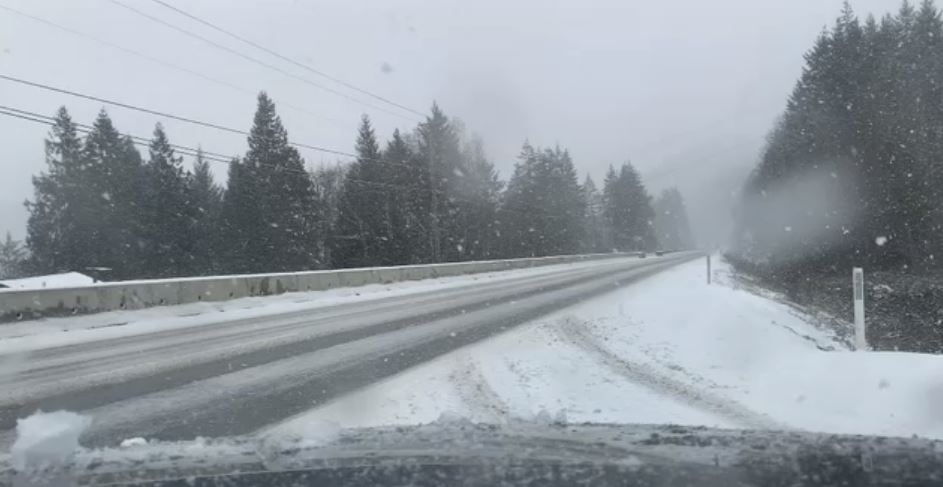 Port Renfrew Elementary School closed Tuesday due to adverse weather.
Most of Vancouver Island and the Southern Gulf Islands are under a snowfall warning, with a low pressure centre approaching Vancouver Island tonight. Snow is expected to begin this evening and intensify during the night. Snowfall amounts of 10 to 15 cm are expected over southern Vancouver Island by Wednesday morning.
The snow will ease on Wednesday morning, according to Environment Canada. Snowfall with total amounts of 10 to 15 centimetres is expected.
The following schools are closed: 
Port Renfrew Elementary
Nanaimo Christian School
Here are all the schools and school districts that have announced they are open
Cowichan Valley School District. Buses are running. Drivers are reminded extra space near the bus stops and with buses on the roads. School sites may have some residual ice.
Greater Victoria School District. Buses are running.
Saanich School District. Buses are running. The district said snow is falling in the Royal Oak area but the roads are mostly clear.
Nanaimo Ladysmith Public Schools. Buses are running.
Camosun College's Lansdowne and Interurban campuses are open. All classes scheduled to run.
Pacific Christian School in Victoria
All other Sooke School District schools besides Port Renfrew. Buses are running but some routes may be altered due to slippery conditions.bService to Finlayson Arm Rd is cancelled.

Students on B11 and B24 – walk out to Otter Point Road. B29 riders walk to West Coast Road. B14 Mount Matheson students walk to Gillespie Road.

School District No. 69 Qualicum. Buses are running.
St. Michaels University School in Victoria. Buses are running.
Island Catholic Schools
Royal Roads University
There are some bus delays and cancellations in Greater Victoria, BC Transit says.
Here is the Greater Victoria list of routes with detours or cancellations update for 6:07 a.m. All other routes are likely running late, so please plan ahead. Customer alerts will also be posted in our NextRide system. #YYJTraffic pic.twitter.com/iY5sFVMeci

— BC Transit (@BCTransit) January 14, 2020
Other schools have not made an announcement and are presumed open.