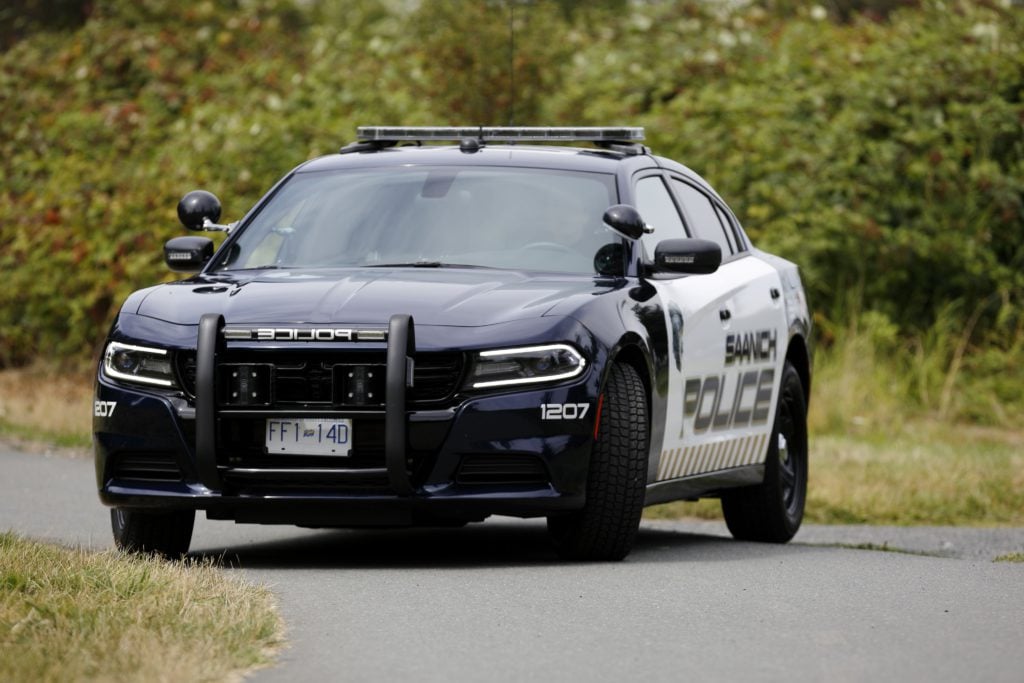 Saanich Police Department via Blue Line Magazine
When it comes to fashionable police vehicles, one Canadian magazine is rolling out the red carpet for the Saanich Police Department.
As part of its annual Best Dressed Police Vehicle Awards for 2022, Blue Line — a national law enforcement magazine  — has given top honours to Saanich Police Department's regular patrol vehicles.
Blue Line says the awards recognize vehicles that showcase innovative, sustainable and effective designs that have "clear identification, graphic designs that enhance visibility, elements that show directionality of travel and effective integration of equipment and controls."
The publication says it also takes in green and environmentally-friendly vehicles as part of the grading rubric.
Blue Line acknowledges that the "best dressed" Saanich patrol cruiser has produced a new look that consulted traffic collision analysts to add insight on ways to increase the safety of the design through high visibility graphics.
Deputy Chief Gary Schenk with Saanich Police said that the colours for this year's new design were in honour and recognition of the historical blue and white colours, which is in marked contrast to the North American trend of black and white police cruisers.
Schenk added that the SPD motto "Keeping Saanich Safe since 1906," was an important addition to the 2019 Dodge Chargers because of the acknowledgement of the force's history.
The design, which was new this year, also features the Canadian flag, a replica of the SPD police badge each officer wears, and reflective markings.
"The one factor that stood out to me is the placement of the words on the side, giving their design directionality. I want to see the direction that a marked vehicle is going at a glance, day or night, and this car fits the bill," praised Dave Brown, one of the Best Dressed Police Vehicle judges.
Rylan Simpson, another judge of the contest, noted that the Saanich PD patrol car "boldly identifies itself" with its colour scheme.
"The navy-blue colour is novel and the addition of the badge adds a unique touch to this otherwise more standard design," Simpson said.
We are honoured to be named Blue Line Magazine's 2022 Best Dressed Police Vehicle! You can read the article online by reading the story below: https://t.co/m7TMN1gEwt
Thanks for the award @Blue_LineMag and congrats to all the other best-dressed vehicles this year! #Saanich https://t.co/e1sGVNMw60

— Saanich Police (@SaanichPolice) February 24, 2022
Saanich Police took to Twitter to celebrate the award saying the force was honoured.
Schenk says that Saanich Police Department saw the competition as a "tremendous opportunity" to showcase the latest design.
"What has me most excited is the opportunity to share this award with the dedicated officers who drive this car every day!"
Local police forces in Quebec and Ontario took second and third place respectively.