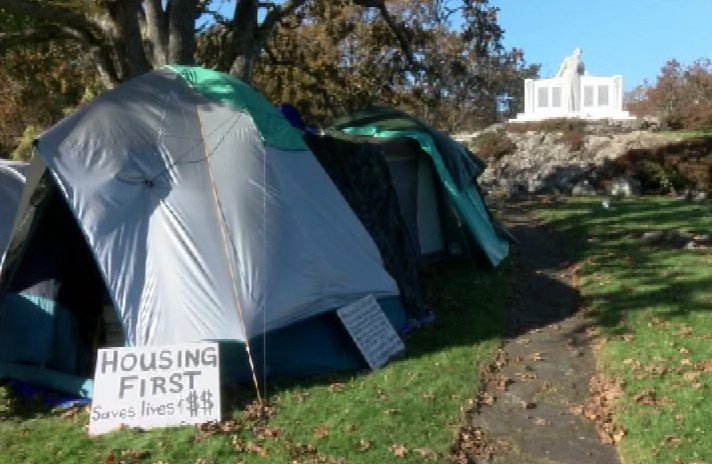 A protest camp set up a week ago in Oak Bay's Uplands Park near the municipality's Cenotaph was dismantled on Tuesday.
Oak Bay police had visited the encampment last Thursday to ask the 16 protesters to leave the area by 11 a.m. to allow for preparations for Remembrance Day ceremonies to begin.
"We've been increasingly concerned that conditions at the park have been deteriorating," Oak Bay Deputy Police Chief Ray Bernoties wrote in a statement.
"We've received reports of unusual activities in the area such as people defecating and urinating in the park, a house broken into in very close proximity to the park, other B&E attempts, and a tribute bench, located at the camp, had been spray painted."
Bernoties said it will cost approximately $1,500 to replace the bench and he was "incredibly disappointed."
"The community of Oak Bay has been very compassionate and patient, but unfortunately, the camp deteriorated and Oak Bay residents have been disrespected by having their property damaged," Bernoties said.
The campers had previously spent two weeks at Oak Bay's Willows Beach.They have set up camp in several Greater Victoria communities over the past months to protest a lack of affordable housing in the region.
Oak Bay police say the clean-up at Uplands Park is already underway by Oak Bay's Parks and Recreation Department and a Hazmat team, and will last several days.
"I'm very pleased that Oak Bay used a hazmat team. The fact that they found needles, potentially containing fentanyl, should serve as a warning to other municipalities," Bernoties said.