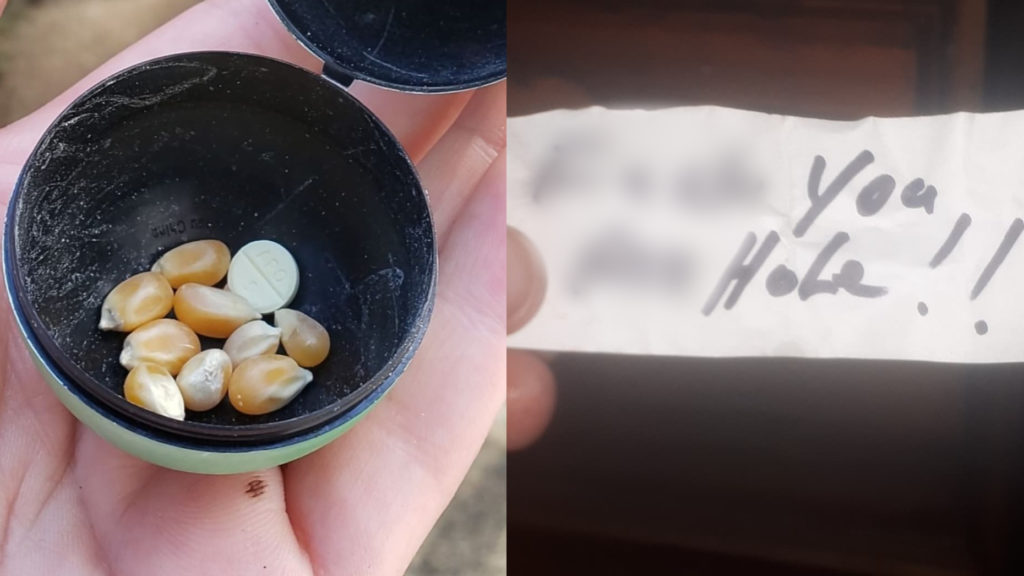 The organizer of an Easter egg hunt in Nanaimo's Maffeo Sutton Park is warning parents this long weekend to look out for suspicious eggs with potentially harmful contents inside.
Colt Lucas Cunningham, who organizes a Vancouver Island "rockhound" group that looks for minerals, crystals and gemstones, held an event Sunday at the park at around 11 a.m. for kids to search for Easter eggs with some of the precious rocks hidden inside.
But that's not all that was found.
Cunningham said a pair of women found two eggs filled with corn kernels and pills inside, while another found a nasty note inside one of the eggs.
"So this was really shocking, especially if it was in reach of a three-year-old or someone around that age," he said.
While the pill hasn't been tested, its identifiers — APO above the number 50 — indicate that it is a 50-milligram dosage of apo-prednisone, a cortisone-based drug commonly used to treat inflammation or arthritis that is not meant to be taken by children.
"Horrifiying," said Cunningham. "I have three little brothers and I work with kids all the time, to think that one of them could have been hurt."
He said once the eggs were discovered, he called RCMP who searched the area but couldn't find anything else.
RCMP confirmed to CHEK News that officers attended and only saw one of the eggs discovered by attendees, and could not verify what substance the pill contained.
Cunningham said he's happy no children found or ingested the pill, but wants anyone else organizing an Easter egg hunt to take precautions.
"There's still someone running around who thinks they got a kick out of this," he said.