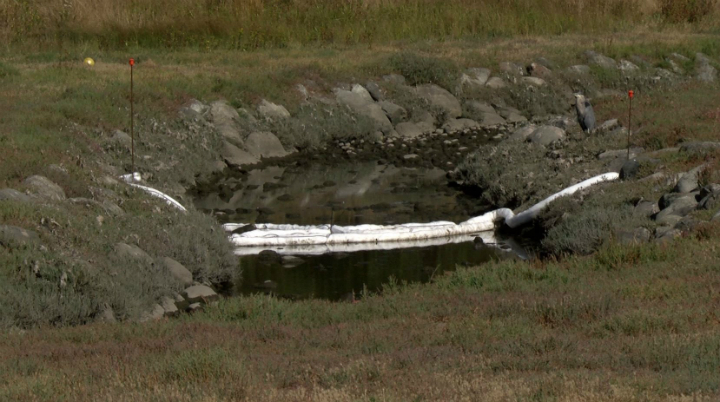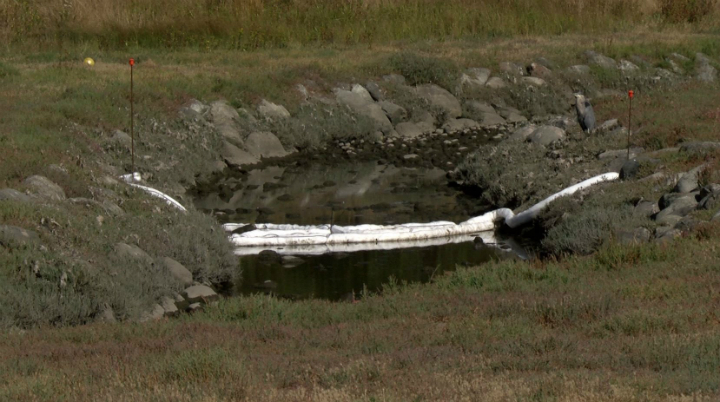 Booms remain in the Gorge Creek to contain a substance reported in July.
The Township of Esquimalt is reminding people to avoid going into Gorge Creek as crews continue to investigate the contamination that was reported in July.
On July 29,  the township was made aware of foul odour, discolouration and a reported potential spill into Gorge Creek. Booms were put in the water to contain the substance and Gorge Swim Fest, which was scheduled for the next day, was cancelled late that night.
Lab results from the creek confirmed the presence of fecal coliform and E. Coli. Earlier in August, the township said dumping of septic tank sewage and a disinfecting chemical could have caused the contamination. However, Jeff Miller, the director of engineering and public works with the Township of Esquimalt, said they are still trying to find the source.
"Finding the source will help us determine what has happened," Miller said.
Prior to Aug. 21, sample results indicated that fecal coliform counts were decreasing to acceptable levels. However, late Thursday, a sample from Tuesday indicated that fecal coliform counts are increasing. Crews also reported a high turbidity "milkiness" in the creek due to salt water reacting with contaminated water.
Miller said they are looking into whether there was a separate incident on Tuesday. If there was, crews will also try to determine if it's from the same source as the first contamination.
Containment booms are still in place at the creek and the township said it does not appear any wildlife has been affected by the contaminants.
The township is working with Island Health, the Capital Regional District and the Ministry of the Environment in its investigations.
Island Health said the Gorge Waterway is safe for swimming.