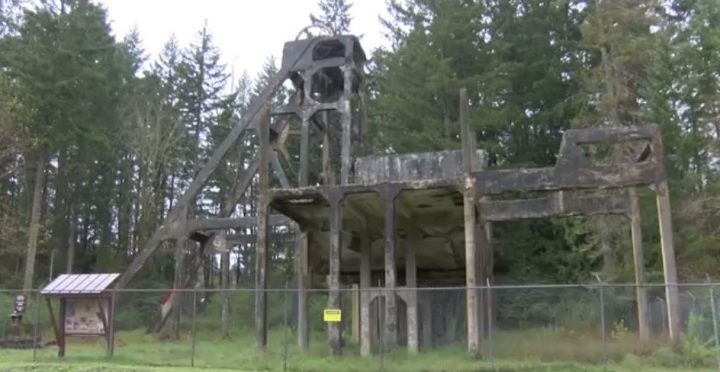 The provincial government has announced $1.4 million in funding for the restoration of the Morden Mine headframe and tipple near Nanaimo.
The money will go toward the stabilization and shoring of the 22.5-metre (74 foot) structure that was built in 1913 by the Pacific Coal Company. It is the only remaining part of the Morden Colliery (coal mine) in the South Wellington area of Nanaimo. And it is one of only two structures of its kind left in North America.
"Morden Colliery Historic Provincial Park plays an important role in educating visitors about Vancouver Island communities' rich coal-mining history," George Heyman, minister of environment and climate change strategy, said in a statement. "Conserving this site preserves a unique piece of our heritage and reminds us of the people who worked in the mines."
During the next two months, crews will stabilize the structure. Repairs will then take more than a year to complete and the Morden Colliery Historic Provincial Park will be temporarily closed during that time.
For the past three years, BC Parks has worked with the Heritage Branch of the Ministry of Forests, Lands, Natural Resource Operations and Rural Development and Friends of Morden Mine (FOMM) to conduct conservation work on the aging structure, such as assessing the mine shaft, removing unsecured timbers from the headframe and an engineering analysis.
"The mine is very close to being destroyed. Most of the posts are not holding it up and we need to stabilize it immediately or it will fall down," Sandra Larocque, FOMM president, said in a statement.
"I was brought to tears when I heard that the Morden mine will be saved. My father and grandfather were both coal miners and I really appreciate them when I look at the mine. We need to preserve this very important part of our history."
The Regional District of Nanaimo maintains a trail that runs through the park to the Nanaimo River, along with a historic railway right-of-way. Plans are underway to create a multi-use trail connecting Morden Colliery and Hemer Provincial Park.