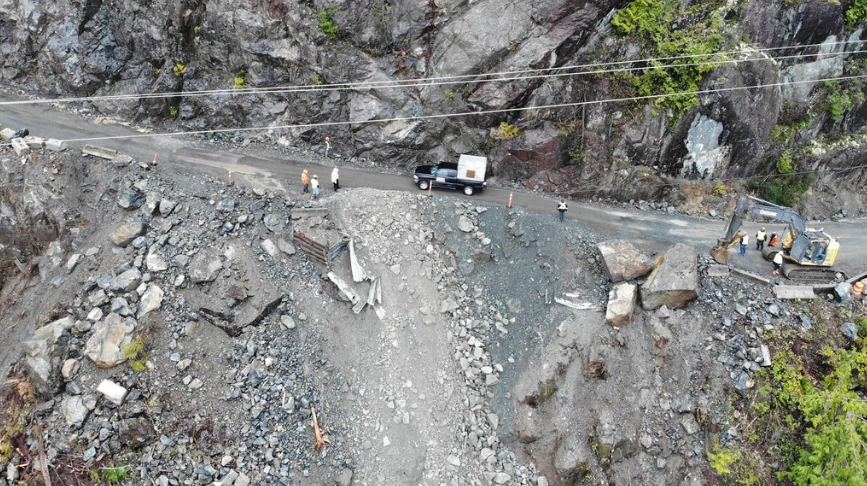 (Ministry of Transportation)
The province says Highway 4 is on track to open Sunday, after a construction-related rock slide took out a section of the road Thursday.
Officials from the Ministry of Transportation said at 2 p.m. Saturday that work for a portable bridge being put in place is looking good.
But there was some confusion Saturday, after some drivers say flaggers told them the road might not be open until Monday. They were then turned away.
The ministry says that information is incorrect, and is following up with crews to clarify.
The highway was open from 8 a.m. to 12 p.m. Saturday for passenger vehicles and light pickups.
Vehicles were screened at the Tofino/Ucluelet junction and at Sproat Lake. Any larger vehicles, such as commercial trucks, vehicles with campers or towing trailers and anyone with a heavy loads were turned around.
Crews are working to on the placement of a  pre-fabricated 20-metre single-lane bridge between the rock bluff and Kennedy Lake. Their goal is to have Highway 4 reopened to single-lane alternating traffic to regular and commercial vehicles on Sunday afternoon.
For drivers affected by the Highway 4 closure, two Emergency Support Hubs are available in Pacific Rim National Park. Combers Beach parking lot is available for semi-trailer trucks, and Green Point Campground overflow is available for RVs and campers.
The damage to the road was caused by a large volume of rock falling during a scheduled blast on Jan. 23. The blast was part of the Highway 4 – Kennedy Hill Safety Improvement Project. The project is expected to be finished later this year. 
Many drivers, along with those living in Tofino and Ucluelet, are frustrated. Some grocery store shelves have been emptied.
READ MORE: Highway 4 to have limited opening Saturday for passenger vehicles and light pickups
Tourism Tofino is asking visitors to rebook if they were planning to visit this weekend. The hotels are providing refunds and are helping people to reschedule.
Ucluelet's mayor said the inconvenience highlights the need for cell service on the highway as news of the damage travelled slow.
The ministry says any updates will be on DriveBC's website.