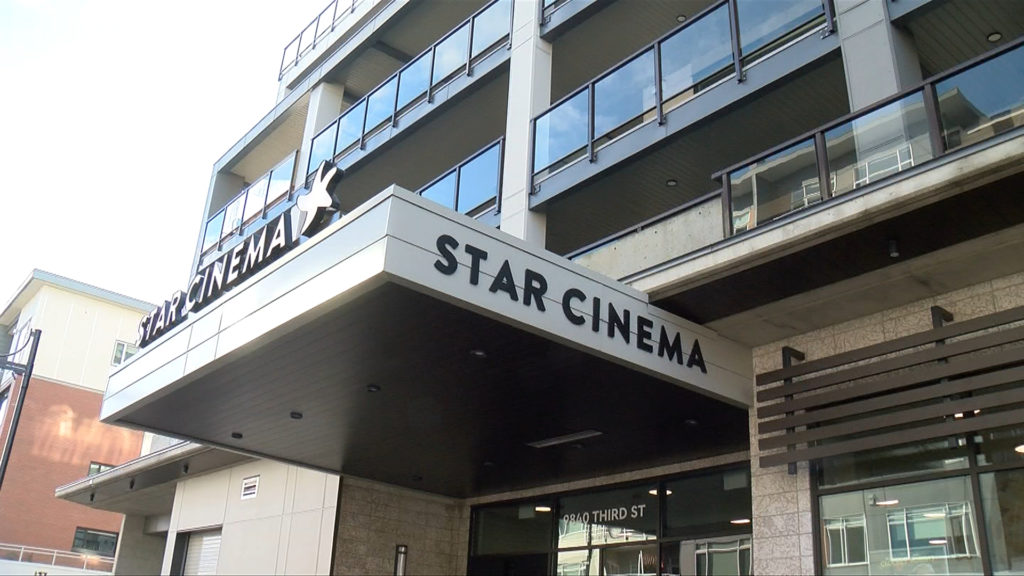 The familiar smell of popcorn is once again greeting moviegoers in downtown Sidney with the reopening of the well-known Star Cinema on Third Street.
Complete with three theatres, the new 7,250-square-foot cinema opened to big crowds this past Friday, Nov. 4, welcoming patrons to grab a snack and sit back, relax and enjoy a flick on the big screen.
"It's wonderful to see everyone's face again and it was an exciting weekend back open. A lot of great crowds and it was a bit hectic, but we're figuring it all out," Lindsay Pomper, the cinema's manager, told CHEK News Monday.
First opened in 1998 and owned by Sandy Oliver, the cinema's original venue at the same location closed in December 2019 after Casman Properties purchased the property for redevelopment.
Sidney town council approved Casman's development permit back in June 2018, paving the way for Cameo — a six-storey, 45-unit condominium building featuring two commercial units in addition to the movie theatre.
In a letter to council, Casman staff said it has "always been our understanding, the importance that the Star Cinema holds to the people of Sidney and its surrounding communities in Greater Victoria," adding, "We understand that this is a unique opportunity…to work together to ensure the longevity of such a beloved asset and amenity in the community."
Upon demolition, staff at Star Cinema opened a temporary location on Fifth Street, but the COVID-19 pandemic presented a challenge.
"We moved into our temp theatre and three months later, the pandemic started, so we had to close," said Pomper in an interview, recalling when government health orders forced movie theatres in B.C. to close.
"In the interim between getting from the temp theatre to the new theatre, we had a seven-month closure. But from the old, old theatre to this theatre, it was around three years."
The temporary location closed for good this past March in anticipation of the fall reopening, but locals could still get their popcorn fix at Scotty's Dog Shack, an eatery located on Beacon Avenue, in the meantime.
"It's been an interesting few years, so it feels good to have a permanent and be open in this new space," added Pomper.
Customers agree, telling CHEK News Sunday it's "very, very nice not to have to go into Victoria to watch a movie."
"(Oliver's) got good movies," a patron outside the cinema said. "To see the new theatre and to support all of the Sidney business people, and I know the actual owner, so we're just excited this is open now."
Star Cinema's showtimes and complete movie lineup, which from Nov. 4-10 includes Ticket to Paradise, Black Adam, Where the Crawdogs Sing, Elvis, and Top Gun: Maverick, can be found online here.