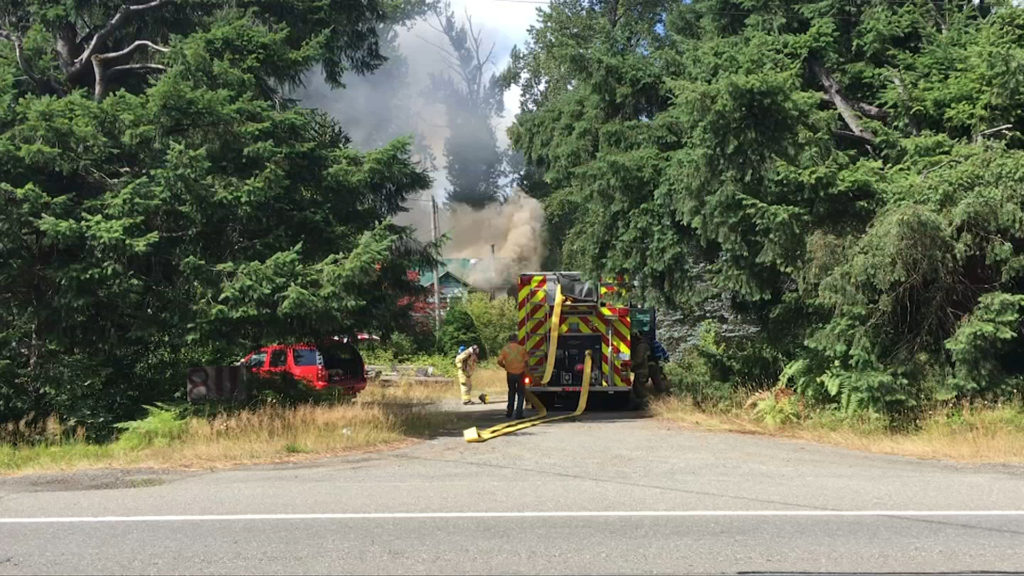 Firefighters in Oyster River were busy this afternoon battling a house fire in Black Creek.
At around 11:30 a.m. firefighters with the Oyster River Fire Department responded to a house fire in the 8100-block of North Island Highway, near Dzini Road.
Bruce Green, fire chief with the Oyster River Fire Department, told CHEK that when he arrived on the scene there was smoke was billowing from both ends of the house and flames were visible.
"We had some flames showing from the backside of the building," he said. "By the time the fire trucks got there the fire had gone inside the house and was coming out the two windows on the lefthand side of the building."
Green said crews immediately knocked down the flames coming from the windows of the house and then spent a "whole pile of time" tackling the blaze since it had spread to other parts of the home.
"The fire got into the attic," he said. "So, we ended up spending some time fighting the fire in the attic."
RCMP attended the scene to direct traffic and handle crowd control said Green, adding than an ambulance also arrived on scene. However, he was no one inside the home or near the home at the time and therefore no one was hurt.
"Fortunately, there was nobody in the house at the time of the fire and all the firefighters are safe," Green said.
How the fire began remains a mystery.
Green said the blaze began on the outside of the building but doesn't know how it began. He said the investigation into the cause is still early and it is hard to determine whether the fire was set intentionally or not.
"It's hard to say at this point," Green said, adding. "It looks like it could have been a freezer but it is very hard to say until you start pulling everything apart."