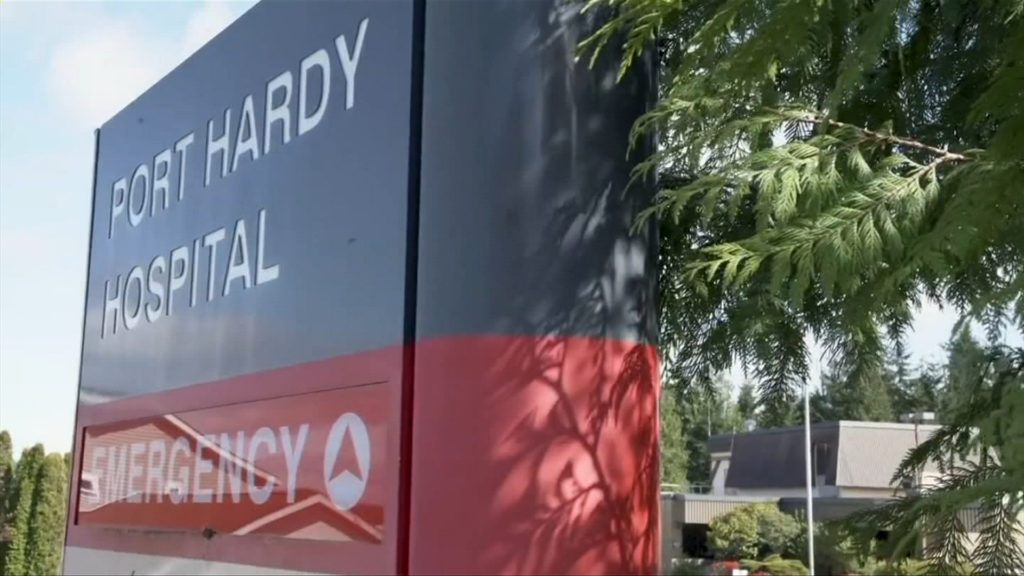 Island Health has announced the hiring of 18 new health-care and support workers, including four nurses, to bolster care on northern Vancouver Island — a small step toward tackling the region's ongoing staffing crisis.
The new nurses are the result of a national hiring blitz launched by Island Health to attract health-care workers to the region, which has been plagued with staffing shortages and frequent overnight closures at facilities like Port Hardy Hospital's ER.
As unpredictable closures stretched on into the new year and residents became more vocal, the province announced in late January an investment of $30 million to help stabilize the North Island's health-care situation.
In an update Tuesday, Island Health said a pool of more than 1,000 prospective candidates led to four nurses accepting job offers in the region, including two who are relocating from other areas.
Of the four, three are registered or registered psychiatric nurses and one is a licensed practical nurse, according to Island Health. An additional 14 candidates are currently engaged in the recruitment process including seven who are in the interview stage.
The nurses will begin work "in the coming weeks," Island Health said in a news release.
B.C. Health Minister Adrian Dix said the new hires are a sign that the provincial government's $30-million investment is having an immediate impact.
"North Vancouver Island residents are quickly benefitting from Island Health's improvements, especially by attracting and recruiting health-care professionals from across the province, country and beyond. Their progress is commendable and makes health care more accessible to Island residents closer to home," said Dix in a statement.
The BC Nurses' Union hailed the new recruitment and retention drive as a positive step in addressing the impacts to patient care on the North Island.
We are hopeful that these measures will remain a priority, giving patients better access to the health-care services they deserve, as well as support to the nurses, doctors and allied health-care workers in the area," the BCNU said in a statement to CHEK News.
Since the funding was announced, there have been no unpredictable ER closures at the two main hospitals in the region (Port Hardy and Port McNeill). The ER at Cormorant Island Community Health Centre was shut down for three days at the beginning of the month due to staffing issues.
Port Hardy's ER continues to operate on limited hours from 7 a.m. to 5  p.m. daily. Island Health confirmed to CHEK News it still aims to return to 24/7 service by adding additional physicians to its on-call pool, which currently includes 10 doctors covering various emergency department shifts on the North Island, though no new hires were announced in Tuesday's update.
As for efforts to retain staff, Island Health will dole out over $280,000 in quarterly retention bonuses to more than 200 current employees in the first quarter of the program, it said in the update, while eligible staff are already receiving enhanced travel compensation.
Despite the government and Island Health's latest cash injection, concerns about the state of local health care still run deep among residents in the area.
This past weekend, some 300 people attended a rally in Port McNeill to voice their dissatisfaction with the health-care situation on the North Island, with one doctor expressing that the region was "invisible" to Island Health and others voicing frustration over feeling residents were in the dark about any improvements being made.
Tuesday's update provided more details on additional long-term care beds and sobering centre beds promised in the January funding announcement. Two long-term care beds have been added at Eagle Ridge Manor and the creation of six new around-the-clock sobering, assessment and sheltering spaces will double the capacity currently offered by the Salvation Army's Port Hardy location, reducing the strain on local ERs, Island Health announced.
"Historically, we have offered sheltering services from late afternoon to early morning, so people who are using these services have to find somewhere to go during the day and on weekends when the centre is closed," said Michael Winter, a supervisor at Salvation Army Centre of Hope, in a statement. "Expanding these vital services to be available around the clock for North Vancouver Island residents will offer more stability and long-term health and care for the individuals and families we serve."
In addition to the four nurses recently hired, Island Health said 14 others have accepted job offers including a community professional hired into home care and public health, seven support staff positions like nursing assistants and health-care support workers, a protection services officer and two full-time and two-casual inter-facility shuttle porters.