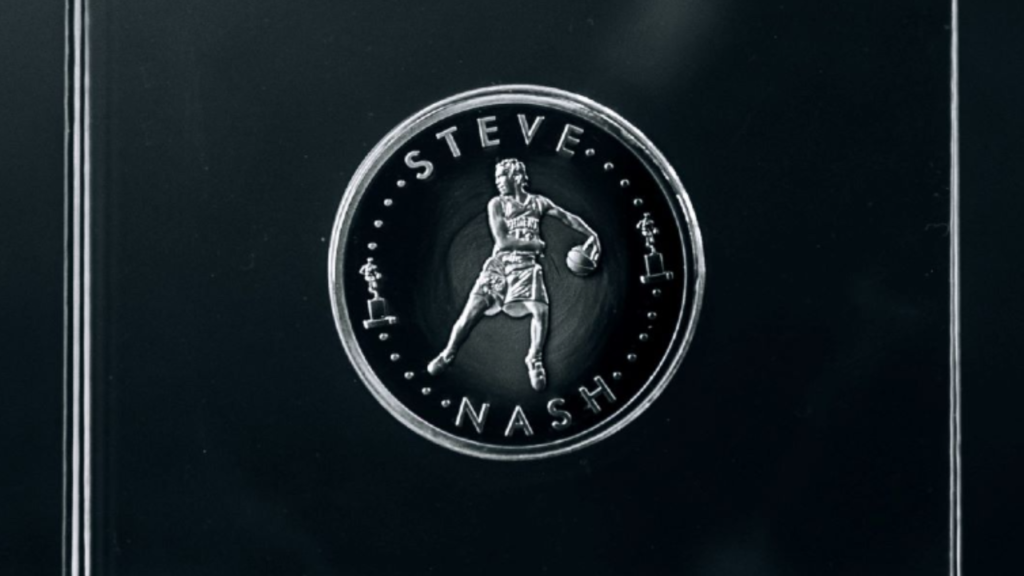 The NBA has released a brand new coin honouring Victoria's most famous athlete and Canadian basketball legend Steve Nash.
Called the Steve Nash Signature Dime, the coin features two MVP trophies — the Maurice Podoloff Trophy — and Nash on the front and the commemorative NBA 75th logo along with the "10,335" and "Dropping Dimes" inscribed on the back.
The dime, which has a silver finish and is housed in a 3 x 3 plexiglass display case, is a nod to the phrase "dropping dimes" which is often used when referring to assists.
Nash played 18 seasons in the NBA playing with the Phoenix Suns, Dallas Mavericks and Los Angeles Lakers. He was named league MVP in 2005 and 2006 and had 10,335 assists during his career, the fourth-most in NBA history. In 2018, The St. Michaels University School graduate was inducted into the Naismith Basketball Hall of Fame and last year he was named to the NBA's 75th Anniversary team — the only Canadian player to be named to the team. He is currently the head coach of the Brooklyn Nets.
The Steve Nash Signature Dime will become available for purchase on April 29 at 11 a.m. Pacific for $50. It can be purchased online at the NBA's 75thShop.ca.
RELATED: Victoria's Steve Nash eager to get started on new career as Nets coach