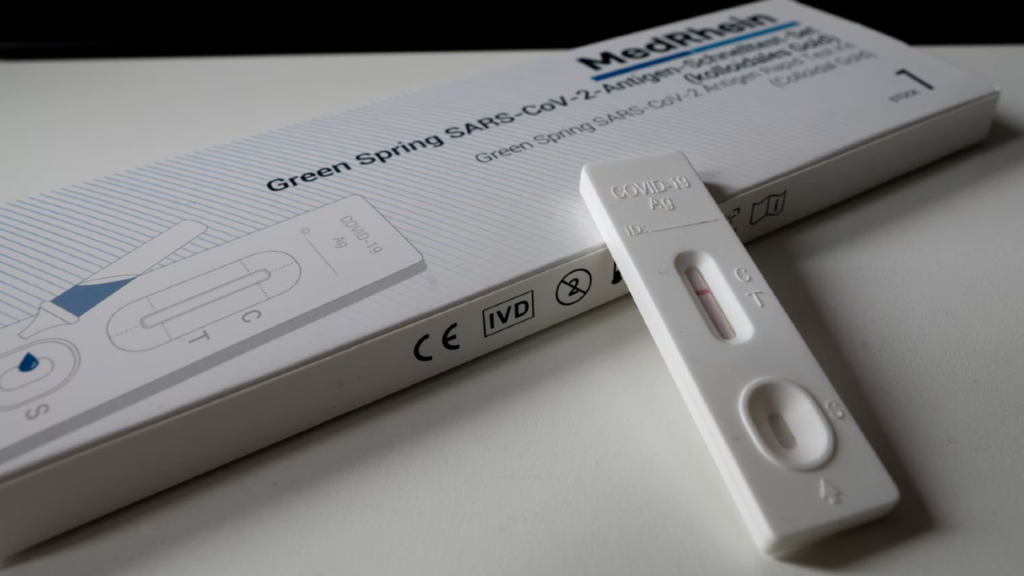 Hundreds of thousands of rapid tests have been provided to businesses throughout British Columbia, data obtained by CHEK News shows.
A total of 539,510 rapid tests have been distributed to various businesses across B.C. through government distribution programs, according to data provided to CHEK News from the Ministry of Health.
Although the province has begun using rapid tests in more situations of late — rapid tests are being used at certain testing sites and some have been provided to post-secondary institutions — they are still not widely available to the general public unlike in other provinces.
B.C. has made rapid tests available to those in long-term care and assisted living facilities. Businesses can also acquire rapid tests by applying to Safe Screen B.C., a fee-based program, or through the Provincial Health Services Authority distribution program.
According to the Ministry of Health, a total of 452,825 rapid tests have been distributed to businesses through the Provincial Health Services Authority program while an additional 86,685 rapid tests have been distributed to businesses via Safe Screen.
The Ministry of Health did not provide CHEK News with specifics about the number of rapid tests deployed by health authority region nor did it provide any specific figures regarding fees collected via the Safe Screen, saying instead that no revenue has been generated from the program.
"The fees charged by Safe Screen B.C. offset some of the costs associated with operating the program. No revenue is generated for the provincial government," the ministry's statement said.
The ministry also did not provide a breakdown of what types of businesses received the tests through either of these programs.
CHEK News also asked the Ministry of Health to confirm whether approximately 1.3 million rapid tests were sitting in a warehouse — something that had been reported by other media outlets — but did not receive a response that specifically answered that question.
More than 1 million rapid tests still unused in B.C.
During a press conference on Friday, Adrian Dix, B.C.'s Minister of Health, said that as of Jan. 7, the province has received 3,891,447 rapid tests and deployed 2,752,335 of them.
"That leaves, in B.C., a current inventory of 1,139,112 tests," he said.
Of the remaining 1,139,112 tests, about half of them aren't suitable for self-administrative use or at-home use, according to Dix.
"Approximately half of the current inventory of tests, 561,672, are not suitable for takeaway or personal use. They require special care equipment, administration by healthcare workers and cannot be broken down or repackaged for self-administration," he said. "These tests will continue to be used … by medical health officers in appropriate settings to manage clusters and outbreaks."
That means there are only 577,440 rapid tests available in British Columbia that health officials deem "suitable" self-administrative use. Dix said those 577,400 rapid will be allocated for symptomatic healthcare workers in acute care, COVID-19 testing sites, and for businesses and other settings.
"There are requirements for healthcare, long-term care, remote communities, First Nations and other high-risk settings," said Dix.
RELATED: Doctors skeptical of B.C.'s rapid test strategy, question Henry's rationale
On Dec. 21 that the rapid test program would be expanded to include COVID-19 testing sites, health authorities to help manage community transmission, schools and post-secondary institutions and other settings, but did not include plans to make them available to the wider public.
Since the announcement, a total of 435,637 tests have been distributed to testing sites and acute care facilities province-wide, 87,310 tests have been delivered to long-term care facilities, and 97,200 tests have been provided to the First Nations Health Authority for distribution, according to a separate statement from the Ministry of Health to CHEK News on Jan. 6.
"With the tests available to us, we have made significant progress deploying tests despite very challenging winter weather and the holiday season," the statement reads.
B.C. is expecting to receive 600,000 tests more tests from the federal government by Wednesday as part of an expected overall shipment of more than 11 million tests in the coming weeks and months ahead.
Dix said Friday that 310,000 are currently on their way and expected to arrive next week and a further 200,000 are slated to arrive by the end of next week.
"120,000 of these tests will be deployed as they arrive, directly to health authorities for use by symptomatic healthcare workers in acute care," he said.
Another 280,000 tests require repackaging and will be deployed to testing sites on a daily basis across the province while the shipment of 200,000 tests that are due to arrive late next week will be for symptomatic teachers and administrative staff, said Dix.
"As our supply increases in mid-to-late January, we will expand the availability of rapid tests across education systems," said Dix. "We will continue to update the public on deployment and use of rapid tests as we gain certainty on timing and supply from the federal government."
Expired rapid tests
B.C. public health officials also allowed thousands of rapid COVID-19 tests to expire over the summer.
In a separate statement from the Ministry of Health, a total of 9,350 Abbott ID NOW COVID-19 (ID NOW) test kits expired in early summer and were discarded — though that figure could be higher.
"We are checking to see if any more have expired since then, but it would be a small number," a Ministry of Health spokesperson told CHEK News.
It's unclear when exactly the tests were discarded because the Ministry of Health's statements did not provide further details.
RELATED: B.C. has used less than 10% of its rapid antigen tests, officials say they don't prevent transmission
According to Health Canada's website, B.C. had received 626,976 Abbott ID Now tests by June 25 and had used 13,130 of them. By July 30, B.C. had only used an additional 1,123 ID Now tests but by Aug. 27 the total amount of tests used in the province had climbed to 15,422. The province did not receive any additional Abbott ID Now tests until December.
Rapid tests, like most medical equipment, come with an expiry date. The federal government has in recent months extended the expiry dates on rapid tests as part of emergency measures.
"Health Canada continues to work closely with its federal, provincial and territorial partners, as well as the manufacturing community, to support additional shelf-life extensions on an ongoing basis," the health agency said in a statement to CHEK News.
At the time of publication, only two of the test products B.C. has received – Abbott ID Now, BD Veritor – have had their expiry dates extended. Those two products now have an extended shelf life of nine to 16 months longer than the original expiry date.
RELATED: Physician urges B.C. to provide free COVID-19 rapid antigen tests