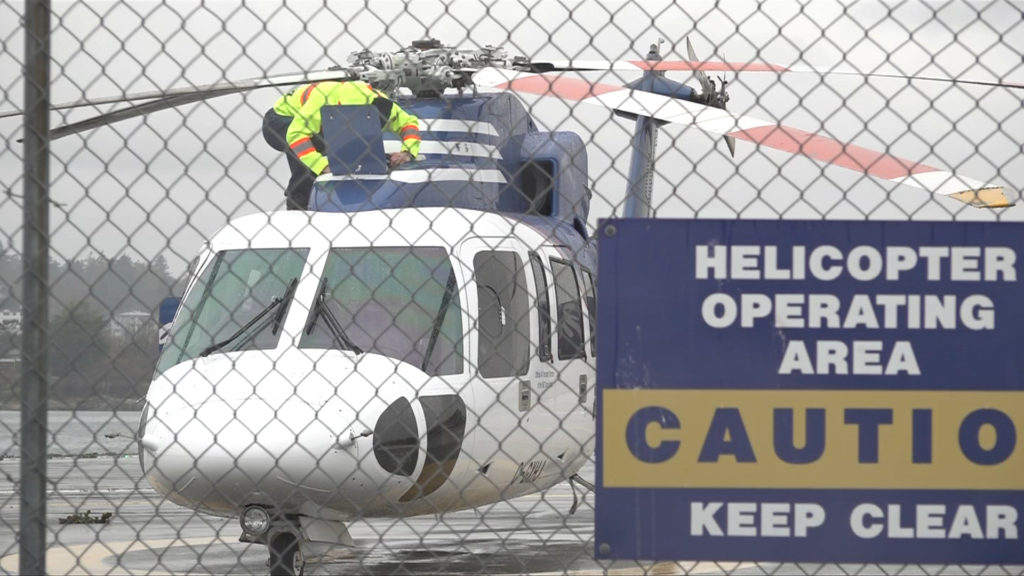 Chilling radio communication between air traffic controllers and pilots of a Helijet helicopter that was struck by lightning on Tuesday paints a picture of the stressful situation.
It starts off as a routine flight from Vancouver to Victoria.
"Helijet 705 traffic about two miles far from Third Beach beaver inbound for the water there, landing eastbound there," the pilots report.
But within minutes, after the helicopter is at its cruise altitude 4,000 feet over the Gulf Islands, the tone in the cockpit changes.
Pilots: "Pull rank! Oh! Yeow!"
Air traffic control: "705?"
Pilots: "We're declaring a pan-pan here. We just descended incredible amounts of altitude. We're still descending. We're at 1,300."
The Helijet helicopter is struck by lightning over Pender Island, one of three reported lightning strikes on the West Coast that morning.
SEE PREVIOUS: Passengers, pilots safe but 'shaken up' after lightning strikes Victoria-bound helicopter
The pilots don't know yet that the strike took out two of the helicopter's tail rotors – and some of their instruments have gone black.
They have to descend out of the clouds to navigate visually.
Air traffic control: "Alpha 705 confirm still at 2,000?"
Pilots: "Negative for 705. We're at 13-hundred."
Air traffic control: "Helijet 705, Roger."
Bill Yearwood spent 40 years investigating aviation accidents for the Transportation Safety Board.
"It's very fortunate the pilots did a good job, in how it turned out," he told CHEK News on Thursday.
He says training paid off in this instance.
"The training that came into play is, stay calm and maneuver the aircraft gently, and get it back onto the ground safely," Yearwood said.
The audio reveals the flight crew initially asked controllers for help navigating to Victoria International Airport
"Just had a lightning strike, and we descended a bunch. We'd like to request a vector for the airport at YYJ. Helijet 705," the pilots said.
But they decided to carry on, navigating on their own to the harbour heliport, calm returning to their voices.
"We have everything under control. We are completely VFR at this time. So we're heading for the harbour."
The Transportation Safety Board is gathering information to determine if an investigation is necessary.
SEE ALSO 2 injured after plane crashes near Campbell River