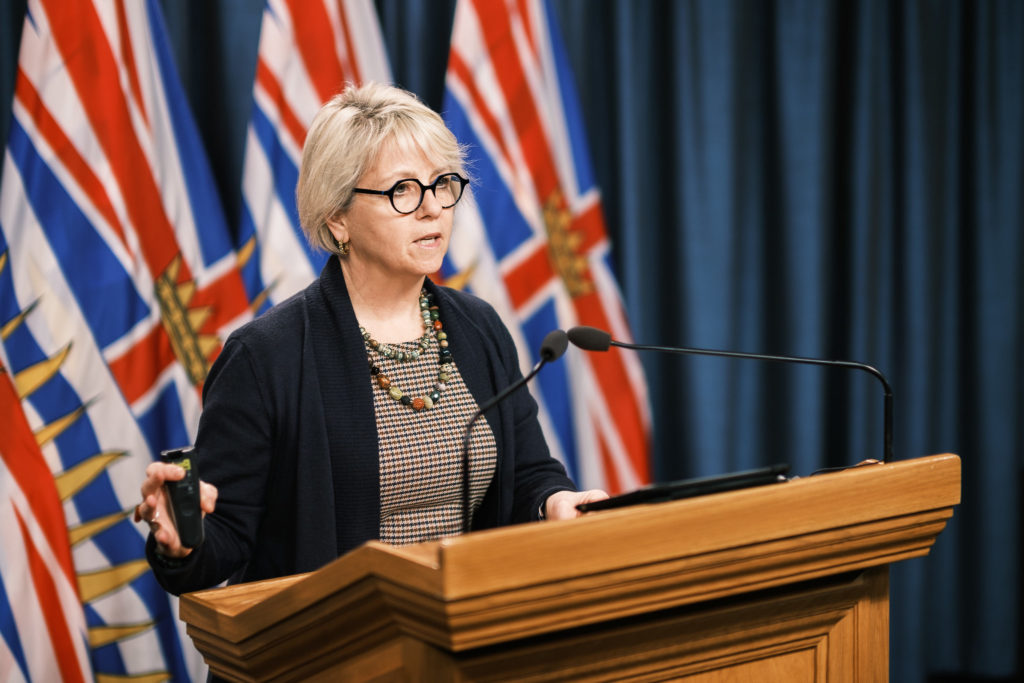 Province of British Columbia
After months of restrictions, the COVID-19 curve in B.C. seems to be sloping downwards again, according to the latest epidemiology modelling released from top health officials.
PHO Dr. Bonnie Henry and Health Minister Adrian. Dix released the modelling data Friday morning, saying we are seeing declining cases, but that this can change very quickly.
"We are seeing some encouraging signs here in B.C., the efforts that we are doing in B.C. are working," said the top doctor.
The PHO says even though this is good news, we should not be increasing our contacts, and urges everyone to continue doing their part to stop the spread.
Today, Dr. Henry extended B.C.'s current restrictions, banning social gatherings with those outside of our household and wearing masks indoors.
According to the data, November was when B.C. had the most difficult time controlling COVID-19, with the most cases recorded on Nov. 14 with 948 cases.
But that seems to be the peak of B.C.'s pandemic so far, with daily numbers slowly sloping back down. The daily case count in the last two weeks was averaging around 450 new cases per day.
Cases by Health Region
Dr. Henry says cases in the Fraser Health Region, and most of Vancouver Coastal, are declining, but we're seeing an increase in areas we weren't before, like the Interior and North Health Regions.
Although B.C.'s overall COVID-19 cases seem to be descending, the Island's numbers are seeing a slight lift.
Every other health authority's latest numbers have trended downwards from November, except Island Health. Island cases still remain relatively low, averaging 27 new cases per day in the last two weeks and Dr. Henry says they are slowly returning back down.
Age Groups
While the curve has been bent towards the right direction, it's the same age group leading the province in cases: young adults.
The latest modelling data shows COVID-19 is most prominent in people aged from 20-29, followed then by those 30-39, 40-49 and 50-59 years old.
Dr. Henry says while cases slightly dipped in December, they came back up again because of the social gatherings that were held over the holidays.
The PHO says B.C. is still not seeing inflated transmission in school, with school-age children making up just over 10 per cent of B.C.'s overall cases.
READ MORE: B.C. updates K-12 school COVID-19 safety guidelines: mandatory masks, increased cleaning
COVID-19 Vaccine
B.C. has received 156,250 doses of vaccine, 115,050 from Pfizer BioNTech, and 41,200 from Moderna.
So far, 145,567 people have been vaccinated in BC.
While delays in shipment and production of the vaccine is slowing down B.C.'s rollout plan, those who need it most seem to be getting it. Dr. Henry says 47 per cent of B.C.'s overall vaccine doses are going to long-term care (LTC) residents and staff.
The latest epidemiology modelling from the province shows 87 per cent of long-term care residents have received their first dose of the vaccine, but only 2 per cent have received their second.
B.C. says 89 per cent of staff at LTC facilities have received their first round of immunizations, with 15 per cent getting their second dose.
The vaccine cannot be given to anyone in the critical stage of battling COVID-19, and those currently fighting will be immunized as soon as it is safe to do so.
Our top doctor said a small number of people didn't give consent, but that it is not a large number.
Dr. Henry said there has been a decline in cases in people over 80-years-old, partly due to these immunization efforts.
Hospitalizations
As cases decline, so do the number of people in hospital due to COVID-19, but not every health region is feeling relief on healthcare systems.
The Northern Health Region is seeing a dramatic increase in hospitalizations, including those in the ICU.