On Friday, BC health officials released the latest epidemiological modelling for COVID-19 in the province and the data showed BC's rates have slowed over the past few weeks.
It has been just under a month since their last provincial projections.
Dr. Bonnie Henry and Health Minister Adrian Dix revealed BC's COVID-19 trajectory and the statistics revealed the province's current infection rate is showing signs of slowing down.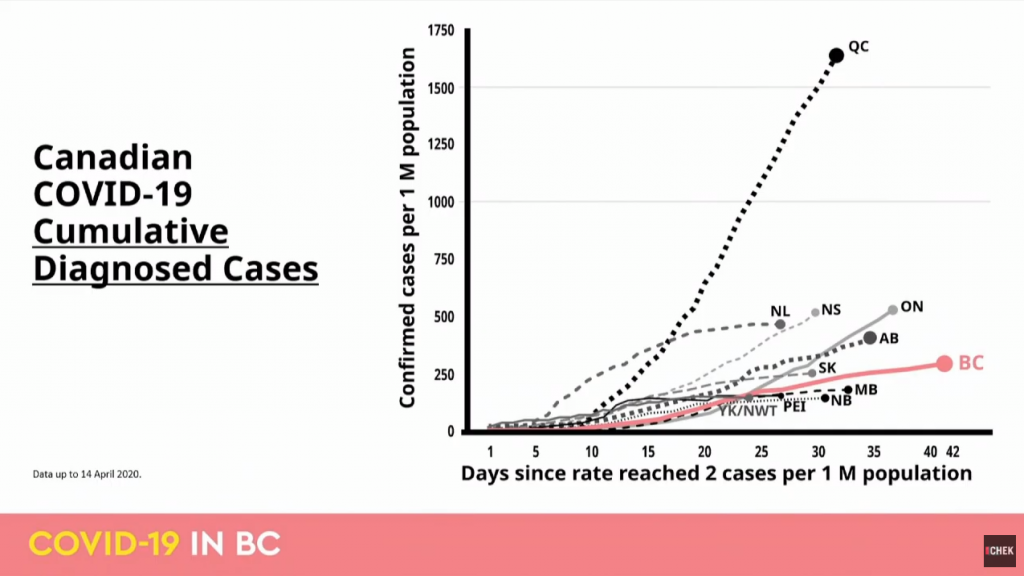 During a slideshow presentation of the current data, Dr. Henry showed a graph (above) of the number of cases in British Columbia compared to other provinces and territories in Canada.
"We can see again, that BC is out front in terms of time because we had our cases started earlier here in British Columbia, but we have flattened and levelled over the past few weeks," Dr. Henry said.
Despite BC residents becoming infected with COVID-19 before other provinces, the trajectory that Dr. Henry showed, implied that the rate wasn't spiking.
"Our pandemic started earlier than other parts of Canada, but as you can see we have flattened that curve and compared to Canada we are still at a low, but steady rate," said Dr. Henry during her presentation.
Despite the rate slowing, Dr. Henry and Dix both emphasized that the measures, which have been effective in combating the virus, will need to be in place for the next couple of months.
As for a breakdown of the confirmed cases in BC, Dr. Henry pointed out that the majority of cases fell between the ages of 30-60, however she also suggested this is the age group that gets tested the most due to a large number of essential workers falling in this range.
Despite more cases in a younger age range, it is the older population that is more vulnerable, seeing heightened hospitalizations and intensive care patients.
The average age of coronavirus patients in BC is 54 years old, however, the median age of those hospitalized is over ten years higher.
The stats also showed that just over half (53 percent) were female and 35.8 percent had underlying chronic conditions, such as cancer, diabetes, and cardiac diseases.
BC's top health officials have attributed the flattening in large part to the public health measures such as physical distancing, travel restrictions, and banning large gatherings of people, BC's tracking is much closer to that of South Korea's.
In the slide below, the grey bar represents when social distancing measures were adopted by the province.
"Once we got to the two weeks from when we put this measures in place, we start to see a gradual decline in the number of new cases, that's our bending the curve." Dr. Henry said.
Dr. Henry said towards the end of her presentation that the fact British Columbians took social distancing to heart is the reason the curve is flattening.
"The slowdown is due to our public health action, not herd immunity, and what happens next will also be due to public health action." Dr. Henry added.
Dix said the latest results are very promising.
"We've made, I think, together some good decisions, that lead to some positive results. We've asked people to be 100% all in, and to a remarkable degree, they have," Dix said.
BC health officials are suggesting the goal is to keep practicing social distancing so the province doesn't experience a sudden outbreak of COVID-19 or an overwhelming onset to the health care system.
Dr. Junling Ma, an associate professor of Mathematics and Statistics at the University of Victoria studies the mathematical modelling of the spread of infectious diseases such as influenza, HIV, Ebola, and cholera.
He says BC's number reflect the results of the strong measures taken early.
"The BC curve epidemic curve is lower than the Canada curve or it flattens earlier mostly the control measures in BC are implemented earlier on.  Earlier than Canada. And it also escalated faster than what happened in Canada."
It greatly helped to flatten the BC curve," Ma said.
According to Dix, he believes these measures aimed at halting the spread of COVID-19 will likely continue for the next 12 to 18 months.