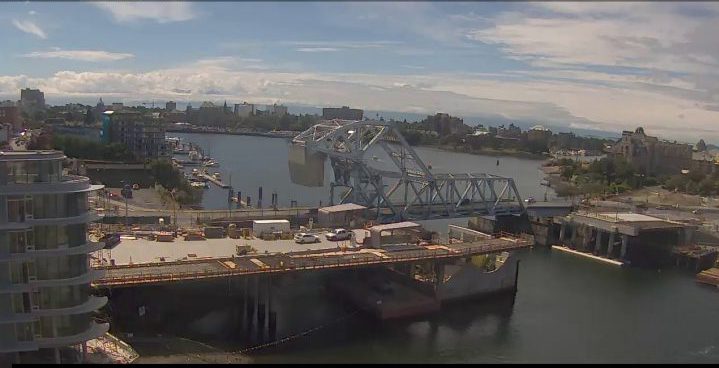 The Johnson Street Bridge and road approaches between Harbour Road and Wharf Street will be closed on Aug. 13 for paving work.
The closure will take place from 5:30 a.m. and 11 p.m. as the city paves between Wharf Street and the new bridge. Drivers and cyclist can expect daytime congestion and delays starting on July 31 as the city prepares for paving.
From July 31 to Aug. 12, there will be periodic lane closures between 9 a.m. and 3 p.m. The bridge will be open in both directions during that time but drivers may have to deal with delays. During the Aug. 13 closure for final paving, the bridge and the streets on the downtown side of the bridge will be closed to vehicles. Pedestrian and cyclists will still be able to go from downtown to Victoria West via the bridge.
There will be advance warning signs on the streets before the work area. People walking or riding bikes should also watch for re-routing signs and directions from flaggers. Drivers are asked to consider alternate routes to avoid delays.
The city said the paving work is being done in August to take advantage of favourable weather conditions.
Project Update
The first shipment of steel for the Johnson Street Bridge is expected to arrive on August 26. The shipment includes the north and south rings, lower counterweight and false work.
READ MORE: First steel shipment for Johnson Street Bridge on its way to Victoria
The second shipment of steel is set to go out on Aug. 25 and arrive the week of Sept. 19 to Sept. 26.
Construction of the new Johnson Street Bridge is three years behind schedule. It was initially supposed to be completed in 2015 on a budget of $64 million. The budget is now $105 million and the projected completion date is March 30, 2018.