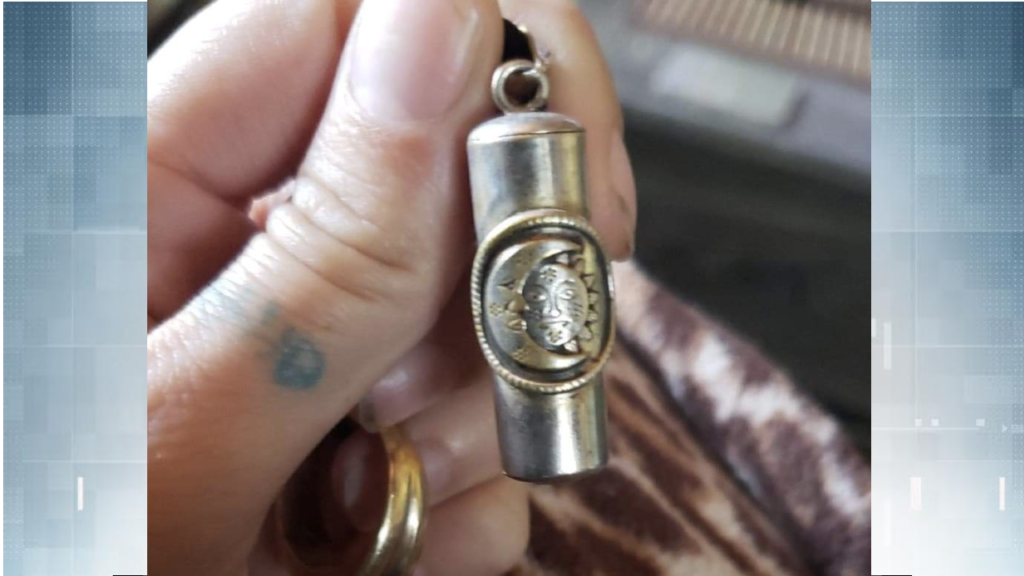 The public plea from Caitlin Lorimer, a new resident of Campbell River, is simple in regards to the "heartbreaking" theft of two sets of ashes stolen from her boyfriend's truck.
"I just want them back no questions asked," she said.
The theft happened outside Lorimer and her boyfriend's home near Dogwood Avenue and 2nd Avenue in Campbell River.
The ashes, which were contained in different necklaces, belonged to her dad and best friend. They were taken from her boyfriend's Ford F-350, which was parked in their covered carport, during an overnight theft on Oct. 13.
Lorimer says her boyfriend discovered the truck's passenger door was ajar and several items were missing when he went to leave for work at around 6 a.m. that same morning.
The thief made off with cash, designer sunglasses and lottery tickets – all items that pale in comparison to the value of the two necklaces to Lorimer, which were swiped during the incident as well.
One necklace features a silver butterfly on a silver chain and contains the ashes of Lorimer's father, who she said passed away suddenly from a heart attack at the age of 45.
"Losing a parent is one of the hardest things I've ever been through in my life and to now lose the last piece I had of him, it's like experiencing it all over again," Lorimer told CHEK News.
The second necklace, which contained the ashes of her best friend Shane, is described as featuring a tarnished silver, tubular pendant on a black silk rope.
She said Shane passed away on her graduation night in a motorcycle accident – an incident that took place the same day her father passed (June 3), seven years apart.
"Shane, he was the kindest, most loving and generous person I've ever met. His death shook the whole town. I was fortunate enough to have that necklace gifted to me by his mother and sister, and again losing that, is extremely heartbreaking."
The Campbell River resident adds that the two necklace containers were all that remained of both people, as the rest of the ashes had been scattered in separate places following their deaths.
Despite other items being taken during the theft, Lorimer is only concerned about the invaluable necklaces and is pleading to the thief for their return with "no questions asked."
Lorimer said she moved to Campbell River from Alberta just over a month ago and, as a relatively new resident, she sees the thievery as a bit unsettling.
"Given the fact I have two defenceless children in the home, I have been scared the past few days at the thought of someone breaking in with my kids at home."
Lorimer emphasized that she was also feeling "completely violated and angered" at the fact someone would do this.
According to the former Alberta resident, the whole experience has re-sparked a tremendous sense of loss for Lorimer's loved ones, having to re-live their passings all over again.
In addition to the roller coaster of emotions that Lorimer has experienced over the past few days, she is feeling gratitude for the support of friends and family as well as strangers that are helping to share her message.
A simple plea, attached to an abundance of hope that her "precious items" will be returned, no questions asked.
READ MORE: Stolen ashes belonging to Courtenay man's late father returned after reward offered