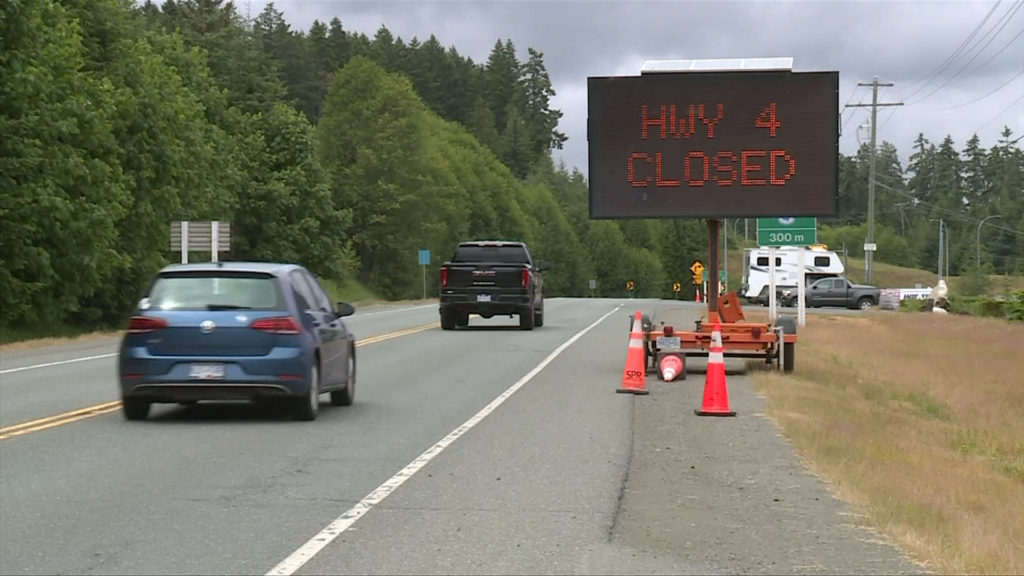 The shuttered stretch of Highway 4 on Vancouver Island isn't expected to fully reopen until mid-July, with single-lane traffic starting the weekend of June 24-25 in what provincial officials are calling a "phased reopening."
The only paved road between Port Alberni and Coombs remains closed due to the Cameron Bluffs wildfire, but it should reopen to single-lane alternating traffic next weekend, according to B.C.'s Ministry of Transportation and Infrastructure in an update Tuesday.
"While crews are acting with urgency, we will have to take whatever time is needed to ensure safety," said Transportation Minister Rob Fleming in a media briefing.
He says the 1.5-kilometre stretch of Highway 4 between Chalet and Aspeden roads should fully reopen to traffic in mid-July, as the fire causes rocks, trees, and other debris to fall onto the road adjacent to Cameron Lake, east of Port Alberni.
"Although this section of Highway 4 is relatively short, the impact of the fire has been significant. The mountain site above the highway is incredibly steep, and the site is extremely challenging for both wildfire crews and ministry staff and contractors," said Fleming.
"That's why we had to close the highway to keep everyone safe."
RELATED: Highway 4 closure near Port Alberni leading to tough decisions
The minister recognizes the closure has "created major challenges" for locals, businesses and tourists, and he says the government is "anxious" to get the road reopened as quickly as possible while keeping safety top of mind.
"Right now, our geotechnical engineers are onsite looking at that challenging slope above the road. It's very dangerous work, and they need to make sure that the cliff face is stable and that the highway and people who use it will be protected," said Fleming.
"Even when the fire is out, it will take some additional time to implement measures that will allow people to travel safety."
Though it remains a wildfire of note, the Cameron Bluffs fire has been downgraded to "being held" from its previous classification as out of control. It now measures 226 hectares in size after previously sitting at 254 hectares.
READ MORE: Cameron Bluffs wildfire now listed as 'being held' at 226 hectares
The BC Wildfire Service says 96 firefighters, four helicopters, an incident management team, and four pieces of heavy equipment responding to the fire, which was first discovered on June 3.
"Even as of today, we're seeing rocks the size of coffee mugs coming down onto the highway, so some significant hazards that our team needs to be aware of and mindful of as we consider the next steps for Highway 4," added Janelle Staite, a deputy regional director with the Transportation Ministry.
Staite says the highway's pavement remains intact, though some pieces of the roadside barrier have been dislodged and do require repairs.
"We are continuing to monitor rock fall on a daily basis to access where those trends are happening, and the frequency and regularity of that rock fall. The slope itself remains intact, however, the debris on the slope has been loosened due to the wildfire," she said.
SEE MAP: Prioritized convoys carrying supplies on Highway 4 detour begin Sunday
Amid the closure, a detour is taking commuters from Port Alberni to Lake Cowichan and vice versa via Bamfield, with four piloted convoys along the logging road happening daily to "ensure the movement of essential goods, such as fuel and food," the ministry says.
The detour, encouraged for essential travel only, opened on June 7, is 90 km long and takes roughly four hours to complete, with officials seeing about 550-1,000 vehicles utilizing it daily.
The ministry tells CHEK News Highway 4 typically sees 15,000 vehicles daily between Port Alberni and Parksville in the summer months.
Watch Tuesday's media briefing below: